Reviews of silent film releases on home video.
Copyright © 1999-2018 by Carl Bennett
and the Silent Era Company.
All Rights Reserved.
Laugh, Clown,
Laugh
(1928)
Lon Chaney is Tito Beppo, a struggling traveling-show clown, who discovers a young girl abandoned by her family. His partner Simon and he take her into their lives.
As the young girl named Simonetta (Loretta Young) becomes a woman, fame has come to Tito and Simon, the most superb clown act in all Europe. Simonetta contributes to the bill as a pretty tightrope walker.
Tito, who has been like a father to Simonetta over the years, is struggling with amorous feelings for her. Her beauty has caught the eye of Luigi (Nils Asther), a young count. Tito and Luigi meet when they seek treatment for individual neuroses. Simonetta is their cure.
Tito cannot stand in the way of young love when he discovers that Luigi wants to ask for Simonetta's hand. The old clown must go on although his heart is broken.
Chaney once again strums on the chord of unrequited love, but the film is dripping in delicious pathos. Chaney's performance is nearly irreproachable as he tugs at the audience's heart strings as Tito, the Pagliacci-like clown.
The film is expertly directed by Herbert Brenon, and features solid performances from Young, Asther and Bernard Siegel as Simon. — Carl Bennett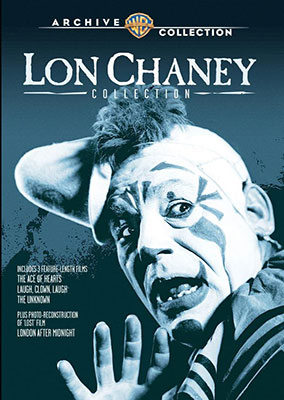 TCM Archives
2003 DVD edition

Lon Chaney Collection (1921-2000), black & white and color, 329 minutes total, not rated,
including Laugh, Clown, Laugh (1928), black & white, 73 minutes, not rated.

Warner Home Video, 65791, UPC 0-12569-57912-5.
Two single-sided, dual-layered, Region 1 NTSC DVD discs, 1.33:1 aspect ratio image in full-frame 4:3 (720 x 480 pixels) interlaced scan MPEG-2 format, 5 Mbps average video bit rate, 192 kbps audio bit rate, Dolby Digital 2.0 stereo sound, English language intertitles, French and Spanish language subtitles, 15 chapter stops; dual digipak in cardboard slipcase, $39.98.
Release date: 28 October 2003.
Country of origin: USA

Ratings (1-10): video: 8 / audio: 8 / additional content: 8 / overall: 8.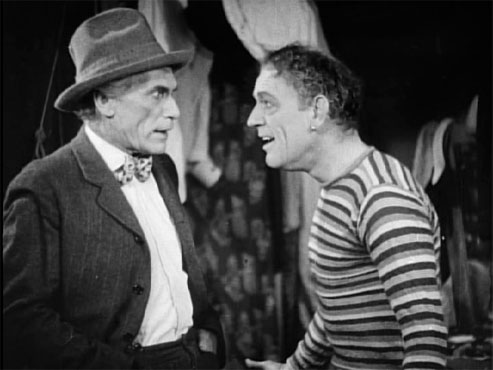 The print utilized for the full-frame video transfer is a very-good to (at times) excellent 35mm British release positive, which is occasionally flecked with light emulsion scuffing, dust, moderate speckling, and a few rough splices. The framing is generous and intertitles will be be uncropped and easy to read on all television monitors. Some small amount of footage is missing to print breaks. Throughout the latter half of the film, the print suffers some intermittently persistent tears from the right-hand sprocket holes that could have been digitally removed from the transfer picture. Overall, however, the image is well-detailed, with a wide range of greytones, and is easy viewing. The transfer was originally prepared for broadcast on Turner Classic Movies.
The orchestral musical accompaniment was composed by H. Scott Salinas, 2002 winner of TCM's Young Film Composers Competition, who does very good work for his freshman excursion into film composition. The score is excellently presented in digital stereo sound.
Among the supplemental material for this film is audio commentary by Chaney biographer Michael F. Blake, an image gallery, and a short documentary on Salinas' competition win and subsequent score for Laugh, Clown, Laugh. As with his other commentaries on this disc, Blake's information is interestingly presented without being stodgy or overly academic. Production details and insights into Chaney's acting and makeup methods are among the information conveyed in a conversational tone, as though you were watching the film with Blake in your home theater.
We highly recommend this film, which was one of Chaney's most successful MGM films, and the other selections on this DVD edition.
USA: Click the logomark to purchase this Region 1 NTSC DVD edition from Amazon.com. Your purchase supports the Silent Era website.
Canada: Click the logomark to purchase this Region 1 NTSC DVD edition from Amazon.ca. Your purchase supports the Silent Era website.
United Kingdom: Click the logomark to purchase this Region 1 NTSC DVD edition from Amazon.co.uk. Your purchase supports Silent Era.