Reviews of silent film releases on home video.
Copyright © 1999-2018 by Carl Bennett
and the Silent Era Company.
All Rights Reserved.

The Last Days
of Pompeii
(1913)

The Italian epic film developed over a number of years spanning the late 1900s through the mid 1910s, culminating in the production and release of the massive Cabiria (1914).

Extant films from this period such as Nero (1909) can be studied to track the progression in story and visual sophistication of the Italian historical dramas. And that progression was rapid. Complex scenarios were developed from respected literary sources, and staging, settings and costumes became more elaborate in a very short time. At this stage in world cinema development, the Italians were the leading filmmakers. And if such a comment raises the ire of Anglo-centric thinkers, consider that the leading filmmakers of the U.S. and Europe were still producing the one and two reel comedies and dramas that includes D.W. Griffith's tight and distinguished little melodramas. The fact that U.S. filmmakers soon seized the feature film form and ran away with it artistically does not change the fact that the Italians creatively blazed the trail.

The Last Days of Pompeii, released in 1913, was an Italian film of first quality that raised the standards by which other Italian epics and other world films were to be compared. The film was based on Edward Bulwer-Lytton's novel and centers around a blind slave girl, Nidia, who falls in a jealous love with her Roman benefactor, Glaucus, who loves the beautiful Jone who is in turn lusted after by the Egyptian high priest, Arbace. The film featured detailed settings and costumes, large crowd shots and state-of-the-art special effects. Yet, as sophisticated as much of the film is, some sets were still rendered as painted flats instead of three-dimensional builds.

Moments in the film were worth noting. When Glaucus first encounters the blind Nidia, sitting on steps and peddling flowers, we were reminded of a similar and very key sequence in Charles Chaplin's City Lights (1931). When Nidia has been imprisoned, we like the lighting and composition of those shots. Visually the film owes much to its past, but does in moments show signs of inspiration and innovation.

The Last Days of Pompeii was quickly imported into the U.S. by George Klein's Photo Drama Company, a major distributor of quality foreign films, where it did very good business. And filmmakers and producers began to take notice and make their own plans for feature films. — Carl Bennett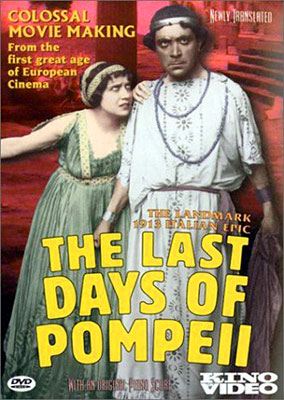 Kino on Video
2000 DVD edition

The Last Days of Pompeii (1913), color-tinted and color-toned black & white, 88 minutes, not rated.

Kino International, K186, UPC 7-38329-01862-6.
One single-sided, single-layered, Region 0 NTSC DVD disc, 1.33:1 aspect ratio image in windowboxed 4:3 (720 x 480 pixels) interlaced scan MPEG-2 format, 4.5 Mbps average video bit rate, 192 kbps audio bit rate, Dolby Digital 2.0 stereo sound, English language intertitles, no foreign language subtitles, 12 chapter stops; standard DVD keepcase, $29.95.
Release date: 7 November 2000.
Country of origin: USA

Ratings (1-10): video: 8 / audio: 7 / additional content: 6 / overall: 7.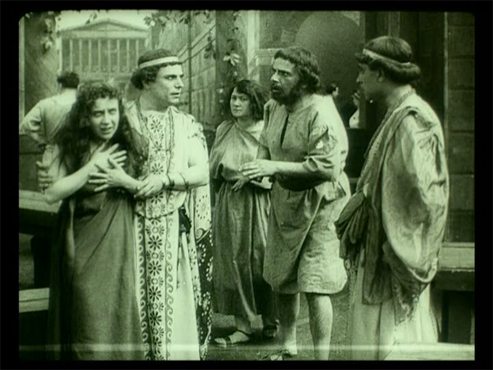 While feature-length dramas had been produced just after the turn of the 20th century in Australia, it was the Italian historical epics of the early 1910s that were almost solely responsible for pushing the world into feature film production. Now Kino International has released one of the most influential of those grand epics, The Last Days of Pompeii (1913), on home video.
The Kino presentation, produced by Bret Wood, features a fine, slightly-windowboxed video transfer at correct running speed (approximately 15 frames per second) of a moderately color-toned 35mm print. The framing of the image appears to be open and generous, with no important elements cut off. The print is lightly flawed by speckling, blotches, fine scratches, original processing imperfections and splices. The usual frame jitters, representative of the state of cameras in 1913, are present. Overall the print is in very good to excellent condition considering its vintage and rarely distracts the viewer with its flaws. During the first moments of the eruption of Mt. Vesuvius, however, about 30 seconds of serious print decomposition must be tolerated, with some frames of picture image virtually entirely lost to emulsion distintegration. The transfer features newly-translated intertitles in English by Nicholas Mulligan and Ulrike Dorda (correct that typo of "jealousy," though), and a satisfying stereo piano score compiled and arranged by Beatrice Jona Affron and performed by Martha Koeneman.
We highly recommend this home video edition of The Last Days of Pompeii for its content and its high quality presentation.
USA: Click the logomark to purchase this Region 0 NTSC DVD edition from Amazon.com. Your purchase supports the Silent Era website.
Canada: Click the logomark to purchase this Region 0 NTSC DVD edition from Amazon.ca. Your purchase supports the Silent Era website.