Reviews of silent film releases on home video.
Copyright © 1999-2018 by Carl Bennett
and the Silent Era Company.
All Rights Reserved.

The Lady in
the Library
(1917)

This romantic drama of self-sacrifice and redemption is a representative example of low-budget filmmaking from the late 1910s, with its average acting, utilitarian direction, spare sets, ample location photography, and an automobile accident that is implied by a tire, an auto part and an actor rolling downhill. The film also contains several historically valuable street scene shots that document storefronts, signage, automobiles, streetcars, etc.

Mildred Vandeburg (Vola Vale) dedicates her life to charity work, but her fiancé J. Huntington Forbes (Jack Vosburgh) considers it a frivolity that she will give up once they are married. Mildred soon sees the folly of her relationship with Hunt and breaks off their engagement.

In a subplot, Meeda the nurse has a thug named Spike Jones for a husband. His honest but downtrodden brother is caught hocking hot jewels for Spike, and is killed in a confrontation with police. The loss is too much for Meeda's already frail sister-in-law and she rats out Spike before passing away.

Forbes tries to forget his own loss with alcohol, but the playboy is jolted by the arrival of an orphaned infant, "The Lady in the Library." Forbes takes to family life with unexpected vigor. Meanwhile, Spike kidnaps the child for ransom, and Mildred and Hunt give chase.

Vola Vale has a charming smile and enough personality to help carry the film. Vosburgh makes a weak leading man and a ludicrous tennis player. — Carl Bennett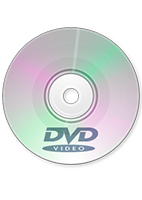 Golden Age Publishing
2003 DVD edition

The Lady in the Library (1917), color-toned black & white and black & white, 44 minutes, not rated.

Golden Age Publishing, no catalog number,
no UPC number, ISBN 1-59090-202-5.
One single-sided, single-layered, Region 0 NTSC DVD-R disc, 1.33:1 aspect ratio image in full-frame 4:3 (720 x 480 pixels) interlaced scan MPEG-2 format, 4 Mbps average video bit rate, no audio tracks, English language intertitles, no foreign language subtitles, no chapter stops; slimline jewel CD case, $14.95 (reduced to $9.99).
Release date: 2003.
Country of origin: USA

Ratings (1-10): video: 6 / audio: 0 / additional content: 0 / overall: 6.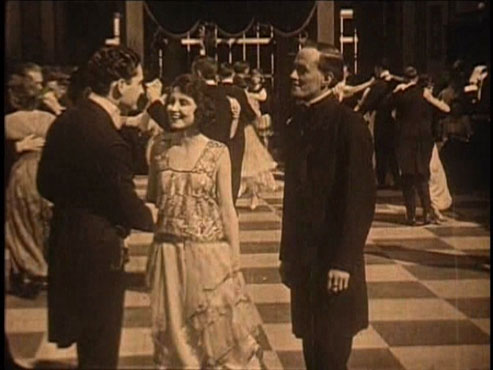 The film has been transferred full-frame at a proper speed, and the video transfer holds much of the image detail and tonal range of this worn but still very-good 35mm nitrate print. The left side of the transfer is slightly soft in detail, and reel changes sometimes begin as still frames as the transfer machine is started, but these minor nits will not be distracting to the majority of viewers. The print itself is missing its main title card, and is compromised in sections by a series of print splices, faint beginnings of decomposition and minor emulsion damage, but this may very well be the sole surviving print of this short feature, and it still is generally to be considered complete and quite watchable. Abrupt transitions between sections of the story are difficult to determine as missing footage or simply as uneven low-budget filmmaking from independent studio Falcon Features.
This edition does not include a soundtrack. But it is a simple thing to play an appropriate CD to accompany a film viewing.
Overall, the transfer is not of commercial product quality (very few public domain products are), but it is quite watchable. We recommend this reasonably well-produced budget edition of a virtually unknown film from the silent era's independent market.
Golden Age Publishing LLC has discontinued video production and this edition is OUT-OF-PRINT.