Reviews of silent film releases on home video.
Copyright © 1999-2018 by Carl Bennett
and the Silent Era Company.
All Rights Reserved.

A Hero for
a Night
(1927)

Minor star Glenn Tryon heads the cast of this minor Universal comedy about a head-in-the-clouds taxi driver who longs to compete in a trans-Atlantic airplane race. Patsy Ruth Miller, best remembered for The Hunchback of Notre Dame (1923), stars as Mary Sloan, the daughter of toiletries magnate Samuel Sloan (Burr McIntosh), whom Hiram Hastings (Tryon) attempts to convince to sponsor his flight. Also on Hiram's agenda is convincing Mary to marry him. It should be no surprise that Hiram's competition for Mary's affections is a conniving playboy businessman, Lloyd Whitlock (Jack Ferber), out to skim what he can from the Sloan fortune.

After a number of fluffy Hiram and Mary sequences, the story attempts to build up some steam with a stock market scare. Hiram to the rescue, with a last-minute flight from Long Island to Manhattan to save the Sloan fortune.

Unfortunately, much of Tryon's bubbly performance is expended in buoying the lightweight script which would have been better suited to a two-reeler. Robert Milash's hotel detective character has no purpose other than to chase Tryon throughout the film. And you'll find yourself laughing at, not with, the film as it winds down to its implausible, surreal finish.

Even though much of the film's humor is in its intertitles, the film is not without its charming moments. Of note is Tryon's amusing gadget-filled taxicab and Bobby, his monkey sidekick, who is — oddly — this comedy's comic relief. — Carl Bennett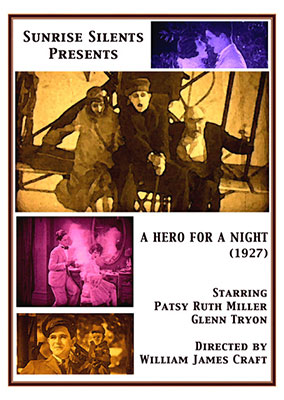 Sunrise Silents
2005 DVD edition

A Hero for a Night (1927), color-tinted black & white, 72 minutes, not rated.

Sunrise Silents, HFAN-N (NTSC) and HFAN-P (PAL), no UPC number.
One single-sided, single-layered, Region 0 NTSC or PAL DVD-R disc, 1.33:1 aspect ratio image in windowboxed 4:3 (720 x 480 pixels) interlaced scan MPEG-2 format, ? Mbps average video bit rate, ? kbps audio bit rate, PCM stereo sound, English language intertitles, no foreign language subtitles, 6 chapter stops; standard DVD keepcase, $21.95.
Release date: 17 May 2005.
Country of origin: USA

Ratings (1-10): video: 5 / audio: 7 / additional content: 2 / overall: 5.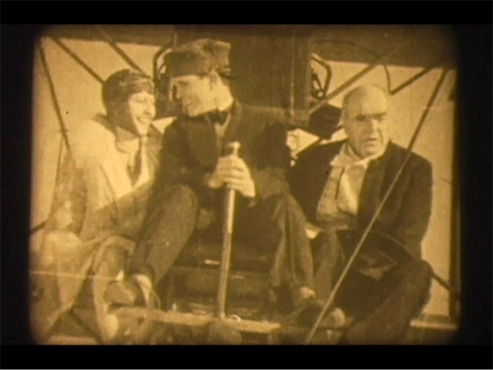 This DVD-R edition features a natural-speed video transfer from a very-good 16mm reduction print that is moderately speckled and scuffed, dustier than usual, a little burnt-out in highlights, and a little light in shadow areas. The film has been digitally tinted in a number of colors. Regardless, the print is watchable and the intertitles will be readable on most television monitors. Some inset shots of book pages and newspaper columns will be slightly cropped due to the cropping of the source print. There are also continuity indications that the print is slightly abridged in places, as in the abrupt end of Miller's cab ride to the Breakers Hotel near the beginning of the film.
The disc features adequate and appropriate musical accompaniment performed on a MIDI-based digital piano that compliments the spirit of the film. The accompaniment is thoughtfully compiled and seamlessly presented.
Don't be misled by ongoing claims by Sunrise Silents that their discs contain commentary on the film. As is commonly understood among DVD consumers, audio commentary is an alternative audio track that runs in conjunction with the film featuring historical and anecdotal information about the film and filmmakers. Sunrise Silents' discs instead feature a video introduction by edition producer Rich Oliveri, which is referred to as "commentary," that serves much the same purpose as the three-minute introductions to films featured on TCM and AMC cable networks.
We cheerfully acknowledge the ongoing work of edition producer Rich Olivieri of Sunrise Silents who is bringing several rarely-seen films like this one to home video for the benefit of silent film collectors.
SUNRISE SILENTS has discontinued business and this edition is OUT-OF-PRINT.