Reviews of silent film releases on home video.
Copyright © 1999-2017 by Carl Bennett
and the Silent Era Company.
All Rights Reserved.

Fear
[Furcht]
(1917)

This horror drama, directed by Robert Wiene, stars Bruno Decarli and features Bernhard Goetzke with Conrad Veidt in one of his earliest film roles.

An obsessive art collector steals a priceless religious artifact in India and spirits it away to his homeland and private collection. In the days that follow, he is filled with dread just knowing that the Indian priests will not relent in their pursuit to recover their statue and punish the thief.

Before long, the Indian priest arrives and lays upon the thief a curse which will have the thief dead in seven years at the hands of the one he holds most dear. Knowing that his days are numbered, the collector, Count Greven (Decarli) vows to live his life to the fullest.

Recognizing the emptiness of dissipation, the Count then dedicates his time to research in his laboratory. Discovering a chemical solution to hunger and with world fame his, he is then off again to do something new. He is now falling in love. But with time running out, he attempts to rid himself of the curse. Up to his last day, he lives in fear of the inevitable.

Not a bad film, but there are no surprises. The relatively pedestrian film is chiefly of interest for the work of Wiene and Veidt. — Carl Bennett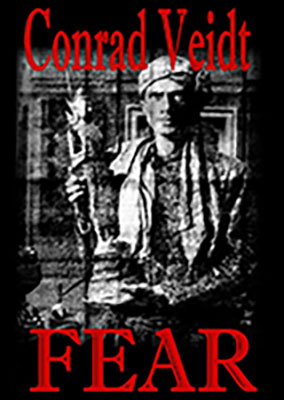 Rare Nightmare
2004 DVD edition

Fear (1917), black & white, 55 minutes, not rated.

Rare Nightmare, no catalog number, no UPC number.
One single-sided, single-layered, Region 0 NTSC DVD-R disc, 1.33:1 aspect ratio image in full-frame 4:3 (720 x 480 pixels) interlaced scan MPEG-2 format, ? Mbps average video bit rate, ? kbps audio bit rate, Dolby Digital 2.0 mono sound, English language intertitles, no foreign language subtitles, chapter stops; standard DVD keepcase, $9.99.
Release date: 2004
Country of origin: USA

Ratings (1-10): video: 3 / audio: 3 / additional content: 0 / overall: 3.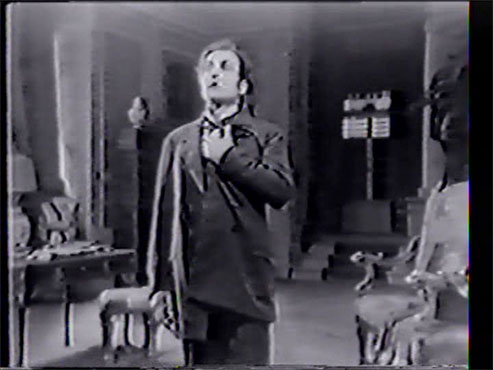 This edition has been mastered from a VHS videotape copy of a transfer from a 16mm reduction print. As would be expected, the image quality is substandard with coarse lines of resolution, smeary picture details, the typical VHS image misalignment as the bottom of the picture, and the occasional videotape playback glitch. English language intertitles are provided in a cheap, crude video-based font that likely dates the sourced VHS edition to the late 1980s. Listed as being 72 minutes in length, the true runtime is a mere 55 minutes.
The film is accompanied by a low-fi soundtrack compiled from preexisting orchestral film soundtrack recordings.
Tough going for even the patient, but this is the only known home video edition on DVD.
This Region 0 NTSC DVD-R edition is available directly from OBSCURE TREASURES.