Reviews of silent film releases on home video.
Copyright © 1999-2018 by Carl Bennett
and the Silent Era Company.
All Rights Reserved.
Rudolph Valentino
The Great Lover
(2006)
This documentary, directed by Lynn Stevenson, features interviews with Annette D'Agostino Lloyd, Jimmy Bangley (who?) and collector Jim Craig, with video footage of the current Lady in Black Keri Bible.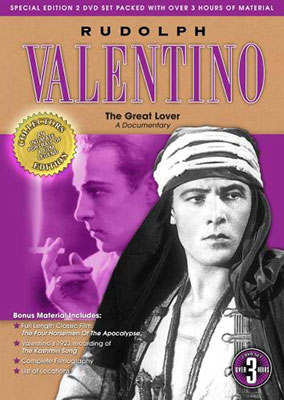 Delta Entertainment
2006 DVD edition

Rudolph Valentino: The Great Lover (2006), color, color-toned black & white and black & white, 78 minutes, not rated,
with The Four Horsemen of the Apocalypse (1921), black & white, 131 minutes, not rated.

Delta Entertainment, 82 825, UPC 0-18111-28259-8.
One dual-sided, single-layered, Region 0 NTSC DVD disc, 1.33:1 aspect ratio image in full-frame 4:3 , , ? Mbps average video bit rate, ? kbps audio bit rate, Dolby Digital 2.0 mono sound, English language intertitles, no foreign language subtitles, 16 chapter stops, standard DVD keepcase, $6.98.
Release date: 21 March 2006.
Country of origin: USA

Ratings (1-10): video: 8 / audio: 7 / additional content: 5 / overall: 7.