Reviews of silent film releases on home video.
Copyright © 1999-2018 by Carl Bennett
and the Silent Era Company.
All Rights Reserved.

Pola Negri
Life is a Dream in Cinema
(2006)

This documentary, directed by Mariusz Kotowski, focuses on the life and career of Polish-born actress Pola Negri. Produced by Heidi Hutter, written by Lynn Moran, and narrated by Cyndi Williams (not Cindy Williams), the documentary includes interviews with Negri's final film costars Hayley Mills and Eli Wallach, and with Hollywood executive A.C. Lyles, author Jeanine Basinger, author Anthony Slide, author Scott Eyman, author Alfred Allan Lewis, author Emily Leider, author Tony Villeco, professor Alexis Gonzales, Negri friend George Schönbrunn and website editor David Gasten.

The rags-to-riches story traces Pola's life from her childhood in Poland to her professional migration into German film studios. Her cinematic rise at the hands of director Ernst Lubitsch in post-war Germany led to her move to Hollywood and her greatest successes, chiefly at the Famous Players-Lasky studio. Her informal engagement to Rudolph Valentino and her appearance at his funeral are sympathetically covered, as is her retreat to France a couple of years later.

Opting not to renew her Paramount contract and financially strapped by bad investments (". . . remember what happened in 1929"), Pola made a couple of films in England and France (her sound debut), she returned to Hollywood for another film before touring vaudeville circuits to earn the needed cash to pay for medical bills. Her efforts to continue earning what money she could led to her return to Germany to make films for UFA, eventually fleeing the rise of the Third Reich.

Faring slightly better in America than other cash-strapped former film stars, through a friendship with Margaret West and persistent hard work in the entertainment industry, Negri weathered the stormy years of World War II and even, eventually, turned down Billy Wilder's invitation to play Norma Desmond in Sunset Boulevard (1950). Moving to San Antonio, Texas, in the 1950s, Negri ended her film career with her appearance in Disney's The Moon-Spinners (1964).

The limited-budget documentary hinges on the observations of professor Jeanine Basinger, author of Silent Stars and The Star Machine, who merits the most screen time of all the film's commentators.

Painted in the broad strokes of the feature-length documentary, Pola Negri is seen as a woman of high achievement. Hard working, yet prone to moments of high drama for the sake of promotional ink, Negri nonetheless was one of the great stars of world cinema. — Carl Bennett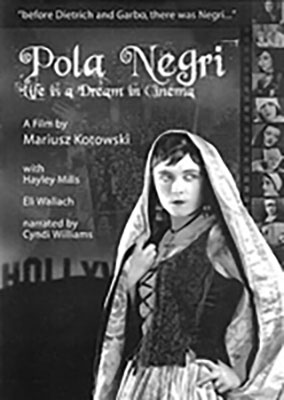 Bright Shining City Productions
2010 DVD edition

Pola Negri: Life is a Dream in Cinema (2006), black & white and color, 89 minutes, not rated.

Bright Shining City Productions, no catalog number, no UPC number.
One single-sided, single-layered, Region 0 NTSC DVD-R disc, 1.33:1 aspect ratio image in full-frame 4:3 (720 x 480 pixels) interlaced scan MPEG-2 format, ? Mbps average video bit rate, ? kbps audio bit rate, Dolby Digital 2.0 stereo sound, English language intertitles, no foreign language subtitles, 26 chapter stops; standard DVD keepcase, $25.00.
Release date: 14 July 2010.
Country of origin: USA

Ratings (1-10): video: 6 / audio: 7 / additional content: 0 / overall: 6.