Reviews of silent film releases on home video.
Copyright © 1999-2018 by Carl Bennett
and the Silent Era Company.
All Rights Reserved.

Cinema Europe
The Other Hollywood
(1995)

This six-part documentary, originally prepared for British Television by Kevin Brownlow and David Gill of Photoplay Productions, is ostensibly a European counterpart to their acclaimed documentary series on silent era Hollywood (1980). Following the form and style of Brownlow and Gill's other documentaries on silent era subjects, Unknown Chaplin (1983), Buster Keaton: A Hard Act to Follow (1987) and others, this is a fast-paced but thorough overview of the subject matter, illustrated with scores of films clips from both common and rarely-seen films. Along with the overview and concluding episodes, we follow the development of motion picture production methods and style, from its rudimentary beginnings through to its silent-era pinnacle in Germany, Denmark, France, Italy and Britain.

We noted with some informed amusement that viewers are barely two minutes into the first program when they are shown footage from Napoléon (1927), a French epic by Abel Gance that has been the recipient of two major restoration efforts by Kevin Brownlow and his team. Any serious discussion of the European silent cinema by Brownlow will certainly include at least one reference to Napoleon.

Viewers will come away from the series with a cursory but balanced understanding of the early contribution of the European motion picture industry to world cinema. — Carl Bennett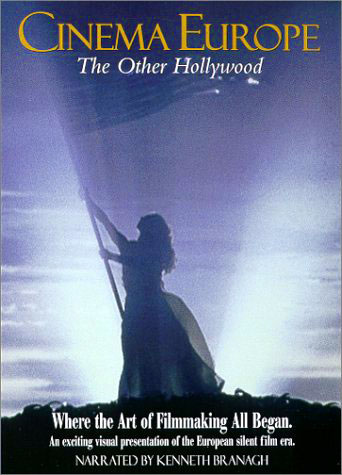 Image Entertainment
2000 DVD edition

Cinema Europe: The Other Hollywood (1995), black & white and color, 360 minutes, not rated.

Image Entertainment, ID9208DLDVD, UPC 0-14381-92082-6.
One double-sided, dual-layered, Region 0 NTSC DVD disc, 1.33:1 aspect ratio image in full-frame 4:3 (720 x 480 pixels) interlaced scan MPEG-2 format, 5 Mbps average video bit rate, 192 kbps audio bit rate, Dolby Digital 2.0 stereo sound, English language intertitles, no foreign language subtitles, chapter stops; standard DVD keepcase, $49.95.
Release date: 30 May 2000.
Country of origin: USA

Ratings (1-10): video: 7 / audio: 7 / additional content: 7 / overall: 7.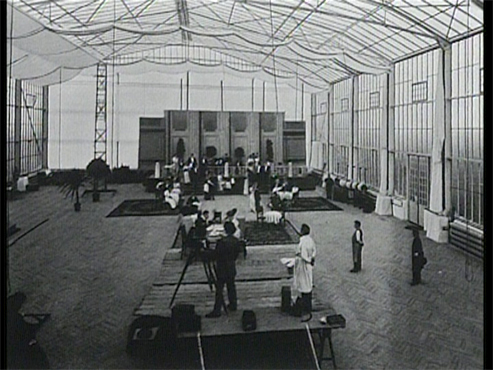 Personal opinions of the series that we have from others have been glowing. Our own opinion concurs and, based on the past work of Messers Gill and Brownlow, we think that this series is worth every dollar charged.
The double-sided, dual-layered disc manages to maintain a more than passible smoothness of picture image despite packing six hours worth of information into the disc.
USA: Click the logomark to purchase this Region 0 NTSC DVD edition from Amazon.com. Your purchase supports the Silent Era website.
Canada: Click the logomark to purchase this Region 0 NTSC DVD edition from Amazon.ca. Your purchase supports the Silent Era website.