Reviews of silent film releases on home video.
Copyright © 1999-2018 by Carl Bennett
and the Silent Era Company.
All Rights Reserved.

WhizBang
Volume 1
(1921-1928)

Contents: The Show Down (1921), The Wolf (1926), Flashing Oars (1927) and Guardians of the Wild (1928).

Action! Adventure! Animal stars! This collection of a feature film and three two-reelers focuses on the action pictures (most of them by Universal) that thrilled audiences of the 1920s. Among the stars in the collection are Art Acord, Ed Burns, George Lewis, Jack Perrin, Fearless the dog and Rex, king of the wild horses.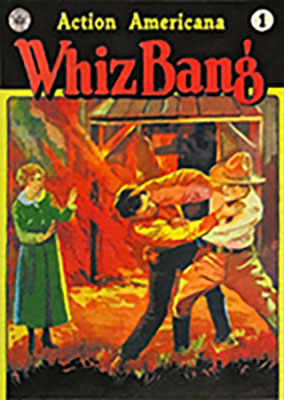 Unknown Video
2009 DVD edition

WhizBang, Volume 1 (1921-1928), black & white, ? minutes total, not rated,
including The Show Down (1921), black & white, ? minutes, not rated, The Wolf (1926), black & white, ? minutes, not rated, Flashing Oars (1927), black & white, ? minutes, not rated, and Guardians of the Wild (1928), black & white, ? minutes, not rated.

Unknown Video, no catalog number, unknown UPC number.
One single-sided, single-layered, Region 0 NTSC DVD-R disc, 1.33:1 aspect ratio image in full-frame 4:3 (720 x 480 pixels) interlaced scan MPEG-2 format, ? Mbps average video bit rate, ? kbps audio bit rate, Dolby Digital 2.0 stereo sound, English language intertitles, no foreign language subtitles, chapter stops; standard DVD keepcase, $18.95 (raised to $19.95).
Release date: August 2009.
Country of origin: USA