Reviews of silent film releases on home video.
Copyright © 1999-2018 by Carl Bennett
and the Silent Era Company.
All Rights Reserved.
The
Unseen Silents
(1918-1923)
Contents: Riddle Gawne (1918), A Sammy in Siberia (1919) and Suzanna (1923).
This collection of films that have survived in incomplete prints has been prepared from the original analog videotape master compiled in the 1990s for release on VHS videotape. The results are far from those that would be expected for today's DVD releases, even from small companies that release home video product on DVD-R discs.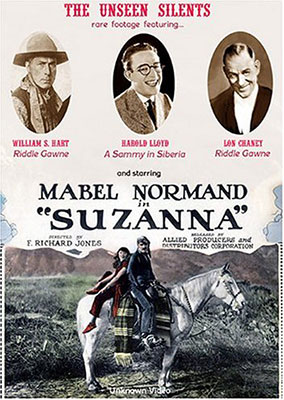 Unknown Video
2004 DVD edition

The Unseen Silents (1918-1923), black & white, 58 minutes total, not rated,
including Suzanna (1923), black & white, 37 minutes, not rated,
with Riddle Gawne (1918), black & white, 13 minutes, not rated, and A Sammy in Siberia (1919), black & white, 8 minutes, not rated.

Unknown Video, no catalog number, no UPC number.
One single-sided, single-layered, Region 0 NTSC DVD-R disc, 1.33:1 aspect ratio image in full-frame 4:3 (720 x 480 pixels) interlaced scan MPEG-2 format, ? Mbps average video bit rate, ? kbps audio bit rate, Dolby Digital 2.0 mono sound, English language intertitles, no foreign language subtitles, chapter stops; standard DVD keepcase, $18.95.
Release date: 22 November 2004.
Country of origin: USA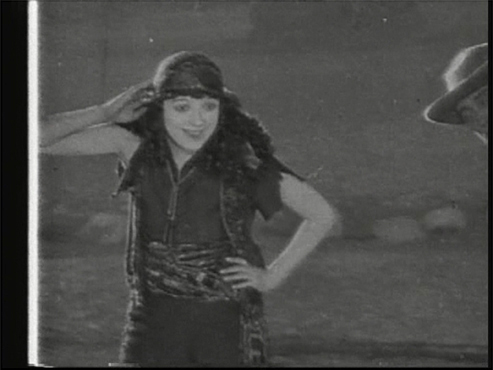 This DVD-R edition of Suzanna (1923) has been mastered from a good quality but incomplete 35mm print that is flat grey. The video transfer has a big vertical block of black (and some white) to the left of the picture, and we suspect that some of the right-hand part of the picture is masked off. The DVD appears to have been mastered from a copy of Unknown Video's 1999 VHS videotape release of the collection The Unseen Silents. The source print may have had foreign language intertitles as all of the intertitles here are reset in English on a crude video-based system.
The presentation features a low-fidelity electric organ musical accompaniment performed by Bob Vaughn.
Also included is a nearly-complete Harold Lloyd comedy, and the surviving footage of a William S. Hart western with Lon Chaney as the villain.
Not recommended unless you really have to have one of these films for your collection.
| | |
| --- | --- |
| USA: Click the logomark to purchase this Region 0 NTSC DVD-R edition from Amazon.com. Your purchase supports the Silent Era website. | |