Reviews of silent film releases on home video.
Copyright © 1999-2018 by Carl Bennett
and the Silent Era Company.
All Rights Reserved.
Snooky the Chimpanzee
(1920-1921)
Contents: A Tray Full of Trouble (1920), Just in Time (1921) and Snooky's Fresh Heir (1921).
Most of us are aware of the short comedies that helped fill out theatre programs during the 1920s, but few have seen the travelogues and novelty films that augmented those bills of fare.
From the years 1920 through 1924, a chimpanzee named Snooky starred in a series of short comedies produced by C.L. Chester. Often poking fun at the hackneyed plotlines of other comedies and occasionally at their own, the Snooky comedies featured the surprisingly entertaining chimp in a series of human situations. Snooky often was cast as rescuer, pulling together his resources to keep children from harm. And, as only could happen in a silent film, Snooky interacts with those around him, speaking through intertitles.
Not much else is known about the Chester Comedies series of Snooky films. A handful of titles are known, and there may still exist some information about the films' production in contemporary trade journals and fan magazines. Perhaps this release will spur some investigation into this and other novelty films series. — Carl Bennett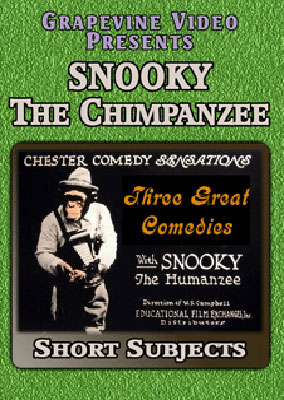 Grapevine Video
2006 DVD edition

Snooky the Chimpanzee (1920-1921), black & white, 57 minutes total, not rated,
including A Tray Full of Trouble (1920), black & white, ? minutes, not rated, Just in Time (1921), black & white, ? minutes, not rated, and Snooky's Fresh Heir (1921), color-toned black & white, ? minutes, not rated.

Grapevine Video, no catalog number, unknown UPC number.
One single-sided, single-layered, Region 0 NTSC DVD-R disc, 1.33:1 aspect ratio image in full-frame 4:3 (720 x 480 pixels) interlaced scan MPEG-2 format, ? Mbps average video bit rate, ? kbps audio bit rate, PCM 2.0 mono sound, English language intertitles, no foreign language subtitles, 9 chapter stops; standard DVD keepcase, $14.95 (reduced to $12.95).
Release date: May 2006.
Country of origin: USA

Ratings (1-10): video: 7 / audio: 7 / additional content: 0 / overall: 7.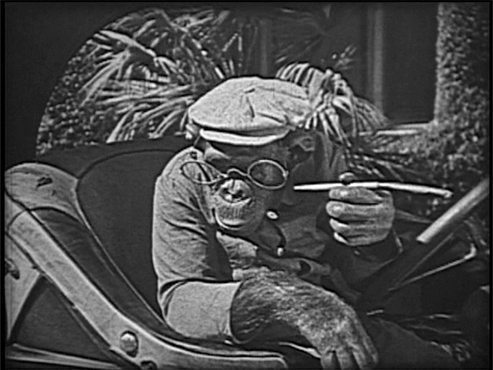 This unique collection of Snooky the Chimp shorts have all been mastered from vintage Kodascope 16mm reduction prints featuring very-good greyscale ranges and image detail. The video transfers for this DVD-R edition have been considerably improved over Grapevine product released in previous years, rendering visual quality that approaches that of the commercial home video producers.
The print of A Tray Full of Troubles (1920) appears to be missing some bridging footage or is the product of rough editing, but is mostly complete and easy to follow. All prints feature the original main titles and intertitles.
The presentation is accompanied by a piano score from preexisting recordings.
We recommend this disc for a unique perspective of novelty comedies from the 1920s and for its (for a public-domain company) higher-than-usual visual quality.
This Region 0 NTSC DVD-R edition is available directly from GRAPEVINE VIDEO.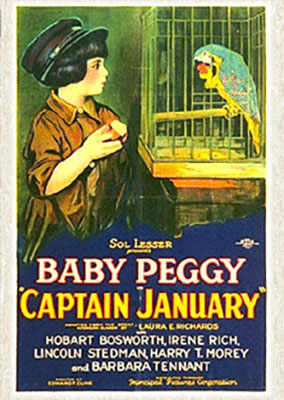 Grapevine Video
2007 DVD edition

Captain January (1924), black & white, 63 minutes, not rated,
with Snooky's Fresh Heir (1921), color-toned black & white, ? minutes, not rated.

Grapevine Video, no catalog number, unknown UPC number.
One single-sided, single-layered, Region 0 NTSC DVD-R disc, 1.33:1 aspect ratio image in full-frame 4:3 (720 x 480 pixels) interlaced scan MPEG-2 format, ? Mbps average video bit rate, ? kbps audio bit rate, PCM 2.0 mono sound, English language intertitles, no foreign language subtitles, chapter stops; standard DVD keepcase, $16.95 (reduced to $14.95).
Release date: 2007.
Country of origin: USA