Reviews of silent film releases on home video.
Copyright © 1999-2018 by Carl Bennett
and the Silent Era Company.
All Rights Reserved.
Silent Comedy
Classics
(1913-1987)
Contents: The Locket; or, When She Was Twenty (1913), The Face on the Bar Room Floor (1914), Laffin Gas [Laughing Gas] (1914), Prince Pistachio (1921), Post No Bills (1923), The Caretakers Daughter (1925), [Exhibitors Convention] (1925), Be Your Age (1926), Mighty Like a Moose (1926), Fluttering Hearts (1927), Forgotten Sweeties (1927) and Late to Lunch (1987).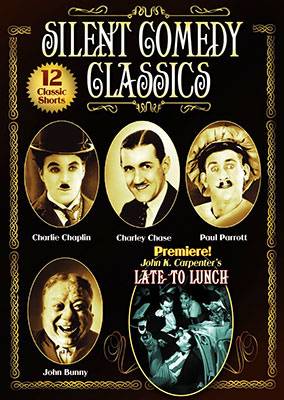 Alpha Video
2009 DVD edition

Silent Comedy Classics (1913-1987), black & white, 207 minutes total, not rated,
including The Locket; or, When She Was Twenty (1913), black & white, ? minutes, not rated, The Face on the Bar Room Floor (1914), black & white, ? minutes, not rated, Laffin Gas [Laughing Gas] (1914), black & white, ? minutes, not rated, Prince Pistachio (1921), black & white, ? minutes, not rated, Post No Bills (1923), black & white, ? minutes, not rated, The Caretakers Daughter (1925), black & white, ? minutes, not rated, [Exhibitors Convention] (1925), black & white, ? minutes, not rated, Be Your Age (1926), black & white, ? minutes, not rated, Mighty Like a Moose (1926), black & white, ? minutes, not rated, Fluttering Hearts (1927), black & white, ? minutes, not rated, Forgotten Sweeties (1927), black & white, ? minutes, not rated, and Late to Lunch (1987), black & white, ? minutes, not rated.

Alpha Home Entertainment, ALP 5941D, UPC 0-89218-59419-8.
One single-sided, single-layered, Region 0 NTSC DVD disc, 1.33:1 aspect ratio image in full-frame 4:3 (720 x 480 pixels) interlaced scan MPEG-2 format, ? Mbps average video bit rate, ? kbps audio bit rate, Dolby Digital 2.0 stereo sound, English language intertitles, no foreign language subtitles, chapter stops; standard DVD keepcase, $7.98.
Release date: 24 November 2009.
Country of origin: USA