Reviews of silent film releases on home video.
Copyright © 1999-2018 by Carl Bennett
and the Silent Era Company.
All Rights Reserved.
Jean Renoir
3-Disc Collector's Edition
(1925-1962)
Contents: Whirlpool of Fate (1925), Nana (1926), Charleston Parade (1927), The Little Match Girl (1928), La Marseillaise (1938), The Doctor's Horrible Experiment (1959) and The Elusive Corporal (1962).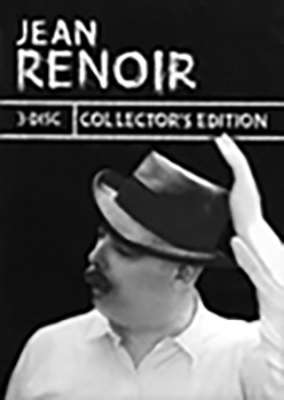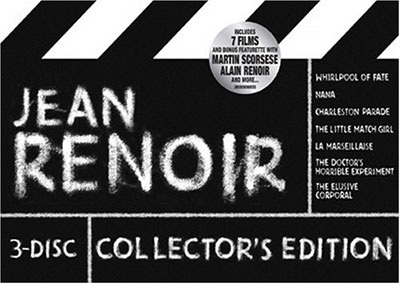 Lions Gate
Entertainment
2007 DVD edition

Jean Renoir: 3-Disc Collector's Edition (1925-1962), black & white and color, 580 minutes total, not rated,
including Whirlpool of Fate (1925), black & white, 72 minutes, not rated, Nana (1926), color-tinted black & white, 130 minutes, not rated, Charleston Parade (1926), black & white, 20 minutes, not rated, The Little Match Girl (1928), black & white, 33 minutes, not rated, La Marseillaise (1938), black & white, 132 minutes, not rated, The Doctor's Horrible Experiment (1959), black & white, 97 minutes, not rated, and The Elusive Corporal (1962), black & white, 96 minutes, not rated.

Lions Gate Entertainment, 21100, UPC 0-12236-21100-6.
Three single-sided, dual-layered, Region 1 NTSC DVD discs, 1.33:1 aspect ratio image in full-frame 4:3 (720 x 480 pixels) interlaced scan MPEG-2 format, ? Mbps average video bit rate, ? kbps audio bit rate, Dolby Digital 2.0 stereo sound, French language intertitles, optional English language subtitles, chapter stops; three-disc DVD keepcase in cardboard box, $24.98.
Release date: 24 April 2007.
Country of origin: USA