Reviews of silent film releases on home video.
Copyright © 1999-2018 by Carl Bennett
and the Silent Era Company.
All Rights Reserved.
Lotte Reiniger:
Shadow Puppets Fairytales
Volume 1
(1922-1957)
Contents: Cinderella (1922), Der scheintote Chinese [The Death Feigning Chinaman] (1928), The Goose That Lays the Golden Eggs (1944), Aladdin and the Magic Lamp (1954), The Frog Prince (1954), Sleeping Beauty (1954), Snow White and Rose Red (1954), Cinderella (1954), Puss in Boots (1954) and The Gallant Little Tailor (1957).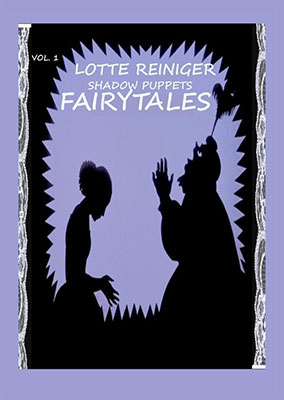 Unknown home video producer
2015 DVD edition

Lotte Reiniger: Shadow Puppets Fairytales, Volume 1 (1922-1957), black & white, 112 minutes total, not rated,
including Cinderella (1922), black & white, ? minutes, not rated, Der scheintote Chinese [The Death Feigning Chinaman] (1928), black & white, ? minutes, not rated, The Goose That Lays the Golden Eggs (1944), black & white, ? minutes, not rated, Aladdin and the Magic Lamp (1954), black & white, ? minutes, not rated, The Frog Prince (1954), black & white, ? minutes, not rated, Sleeping Beauty (1954), black & white, ? minutes, not rated, Snow White and Rose Red (1954), black & white, ? minutes, not rated, Cinderella (1954), black & white, ? minutes, not rated, Puss in Boots (1954), black & white, ? minutes, not rated, and The Gallant Little Tailor (1957), black & white, ? minutes, not rated.

Unknown company, unknown catalog number, unknown UPC number.
One single-sided, single-layered, Region 0 NTSC DVD-R disc, 1.33:1 aspect ratio image in full-frame 4:3 (720 x 480 pixels) interlaced scan MPEG-2 format, ? Mbps average video bit rate, ? kbps audio bit rate, Dolby Digital 2.0 stereo sound, English? language intertitles, no foreign language subtitles?, chapter stops; standard DVD keepcase, $19.79.
Release date: 14 December 2015
Country of origin: USA