Reviews of silent film releases on home video.
Copyright © 1999-2018 by Carl Bennett
and the Silent Era Company.
All Rights Reserved.
Mabel Normand
Films
(1911-1916)
Contents: Saved from Himself (1911), Barney Oldfield's Race for a Life (1913), A Muddy Romance (1913), Mabel and Fatty Viewing the World's Fair at San Francisco, Cal. (1915), He Did and He Didn't (1916).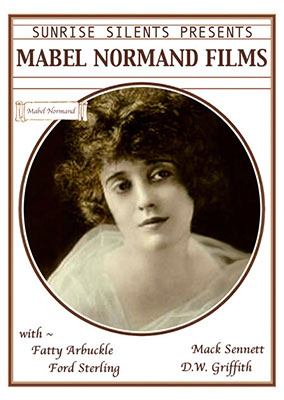 Sunrise Silents
2004 DVD edition

Mabel Normand Films (1911-1916), color-tinted black & white, 68 minutes total, not rated,
including Saved from Himself (1911), color-tinted black & white, ? minutes, not rated, Barney Oldfield's Race for a Life (1913), color-tinted black & white, ? minutes, not rated, A Muddy Romance (1913), color-tinted black & white, ? minutes, not rated, Mabel and Fatty Viewing the World's Fair at San Francisco, Cal. (1915), color-tinted black & white, ? minutes, not rated, and He Did and He Didn't (1916), color-tinted black & white, ? minutes, not rated.

Sunrise Silents, MNF1-N, no UPC number.
One single-sided, single-layered, Region 0 NTSC DVD-R disc, 1.33:1 aspect ratio image in full-frame 4:3 (720 x 480 pixels) interlaced scan MPEG-2 format, ? Mbps average video bit rate, ? kbps audio bit rate, Dolby Digital 2.0 mono sound, English language intertitles, no foreign language subtitles, chapter stops; standard DVD keepcase, $19.95.
Release date: 2004.
Country of origin: USA