Reviews of silent film releases on home video.
Copyright © 1999-2018 by Carl Bennett
and the Silent Era Company.
All Rights Reserved.
Mitchell & Kenyon
Edwardian Sports
(1901-1907)
Contents: AAA Championships at Fartown, Huddersfield (1901), Arthur Mold Bowling to A.N. Hornby (1901), Dewsbury v. Manningham (1901), Halifax v. Salford (1901), Hunslet v. Leeds (1901), Manchester and Salford Harriers' Cyclists Procession (1901), Race for the Muratti Cup at Manchester Wheelers' Annual Race Meet (1901), Manchester Wheelers' Annual Race Meet (1901), Newcastle United v. Liverpool (1901), Oldfield v. Swinton (1901), Salford v. Batley (1901), Tynemouth Swimming Gala in the Haven, North Shields (1901), Warrington v. St. Helens (1901), Champion Athletes at Birmingham (1902), Day School Sports at Park Avenue, Bradford (1902), Everton v. Liverpool (1902), Final of International Cup at Cork Regatta Between Leander and Berlin (1902), The Great Local Derby, Accrington v. Church Cricket Match (1902), Hull FC v. Hull Kingston Rovers (1902), Hull Kingston Rovers v. Wigan (1902), Kingston Rowing Club at Practice (1902), Notts County v. Middlesborough (1902), Rotherham Town v. Thornhill (1902), Sheffield United v. Bury (1902), Manchester v. Blackpool Road Race (1903), Bradford City v. Gainsborough Trinity (1903), Northern Union Challenge Cup Final Halifax v. Salford (1903), Blackburn Rovers v. Aston Villa (1904), Preston North End v. Wolverhampton Wanderers (1904), Trotting Match at Springfield Park, Wigan (1904), Bolton v. Burton United (1904-1905), Preston North End v. Aston Villa (1905) and Sunderland v. Leicester Fosse (1907).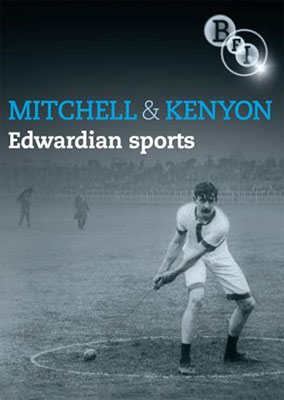 British Film Institute
2007 DVD edition

Mitchell & Kenyon: Edwardian Sports (1901-1907),
black & white, 108 minutes total, BBFC Classification E,
including AAA Championships at Fartown, Huddersfield (1901), black & white, ? minutes, BBFC Classification E, Arthur Mold Bowling to A.N. Hornby (1901), black & white, ? minutes, BBFC Classification E, Dewsbury v. Manningham (1901), black & white, ? minutes, BBFC Classification E, Halifax v. Salford (1901), black & white, ? minutes, BBFC Classification E, Hunslet v. Leeds (1901), black & white, ? minutes, BBFC Classification E, Manchester and Salford Harriers' Cyclists Procession (1901), black & white, ? minutes, BBFC Classification E, Race for the Muratti Cup at Manchester Wheelers' Annual Race Meet (1901), black & white, ? minutes, BBFC Classification E, Manchester Wheelers' Annual Race Meet (1901), black & white, ? minutes, BBFC Classification E, Newcastle United v. Liverpool (1901), black & white, ? minutes, BBFC Classification E, Oldfield v. Swinton (1901), black & white, ? minutes, BBFC Classification E, Salford v. Batley (1901), black & white, ? minutes, BBFC Classification E, Tynemouth Swimming Gala in the Haven, North Shields (1901), black & white, ? minutes, BBFC Classification E, Warrington v. St. Helens (1901), black & white, ? minutes, BBFC Classification E, Champion Athletes at Birmingham (1902), black & white, ? minutes, BBFC Classification E, Day School Sports at Park Avenue, Bradford (1902), black & white, ? minutes, BBFC Classification E, Everton v. Liverpool (1902), black & white, ? minutes, BBFC Classification E, Final of International Cup at Cork Regatta Between Leander and Berlin (1902), black & white, ? minutes, BBFC Classification E, The Great Local Derby, Accrington v. Church Cricket Match (1902), black & white, ? minutes, BBFC Classification E, Hull FC v. Hull Kingston Rovers (1902), black & white, ? minutes, BBFC Classification E, Hull Kingston Rovers v. Wigan (1902), black & white, ? minutes, BBFC Classification E, Kingston Rowing Club at Practice (1902), black & white, ? minutes, BBFC Classification E, Notts County v. Middlesborough (1902), black & white, ? minutes, BBFC Classification E, Rotherham Town v. Thornhill (1902), black & white, ? minutes, BBFC Classification E, Sheffield United v. Bury (1902), black & white, ? minutes, BBFC Classification E, Manchester v. Blackpool Road Race (1903), black & white, ? minutes, BBFC Classification E, Bradford City v. Gainsborough Trinity (1903), black & white, ? minutes, BBFC Classification E, Northern Union Challenge Cup Final Halifax v. Salford (1903), black & white, ? minutes, BBFC Classification E, Blackburn Rovers v. Aston Villa (1904), black & white, ? minutes, BBFC Classification E, Preston North End v. Wolverhampton Wanderers (1904), black & white, ? minutes, BBFC Classification E, Trotting Match at Springfield Park, Wigan (1904), black & white, ? minutes, BBFC Classification E, Bolton v. Burton United (1904-1905), black & white, ? minutes, BBFC Classification E, Preston North End v. Aston Villa (1905), black & white, ? minutes, BBFC Classification E, and Sunderland v. Leicester Fosse (1907), black & white, ? minutes, BBFC Classification E.

BFI Video Publishing, BFIVD737, UPC 5-035673-00737-2.
One single-sided, single-layered, Region 2 PAL DVD disc, 1.33:1 aspect ratio image in full-frame 4:3 (720 x 480 pixels) interlaced scan MPEG-2 format, ? Mbps average video bit rate, ? kbps audio bit rate, Dolby Digital 2.0 stereo sound, English language intertitles, no foreign language subtitles, chapter stops; standard DVD keepcase, £19.99.
Release date: 30 July 2007.
Country of origin: England