Reviews of silent film releases on home video.
Copyright © 1999-2017 by Carl Bennett
and the Silent Era Company.
All Rights Reserved.
Keystone Kops
Festival /
Buster Keaton
Festival
(1913-1922)
Contents: Bangville Police (1913), Love, Speed and Thrills (1915), Her Painted Hero (1915), Wife and Auto Trouble (1916), The Boat (1921), The Blacksmith (1922), Day Dreams (1922) and The Paleface (1922).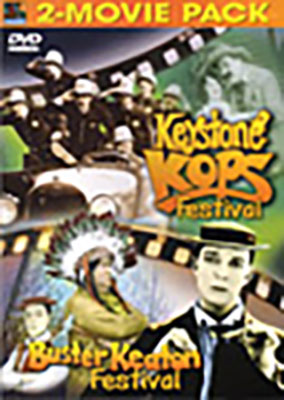 Mill Creek Entertainment
2005 DVD edition

Keystone Kops Festival (1913-1916) and Buster Keaton Festival (1921-1922), black & white, 134 minutes total, not rated,
including Bangville Police (1913), black & white, ? minutes, not rated, Love, Speed and Thrills (1915), black & white, ? minutes, not rated, Her Painted Hero (1915), black & white, ? minutes, not rated, Wife and Auto Trouble (1916), black & white, ? minutes, not rated, The Boat (1921), black & white, ? minutes, not rated, The Blacksmith (1922), black & white, ? minutes, not rated, Day Dreams (1922), black & white, ? minutes, not rated, and The Paleface (1922), black & white, ? minutes, not rated.

Mill Creek Entertainment, no catalog number, UPC 8-26831-20060-6.
One single-sided, single-layered, Region 0 NTSC DVD-R disc, 1.33:1 aspect ratio image in full-frame 4:3 (720 x 480 pixels) interlaced scan MPEG-2 format, ? Mbps average video bit rate, ? kbps audio bit rate, Dolby Digital 2.0 mono sound, English language intertitles, no foreign language subtitles, chapter stops; standard DVD keepcase, unknown suggested retail price.
Release date: 22 March 2005
Country of origin: USA