Reviews of silent film releases on home video.
Copyright © 1999-2018 by Carl Bennett
and the Silent Era Company.
All Rights Reserved.
Ham
The Lost Magic of
Lloyd Hamilton
(1915-1932)
Contents: "Ham" and the Sausage Factory (1915), "Ham" in a Harem (1915), The Phoney Cannibal (1915), Raskey's Road Show (1915), The Spook Raisers (1915), The Great Detective (1916), Good Evening Judge (1916), The Love Magnet (1916), [unidentified Ham and Bud] possibly Rival Fakers (1916), The Model Janitor (1917), A Flyer in Flapjacks (1917), The Deadly Doughnut (1917), The Bathtub Bandit (1917), [unidentified Fox Sunshine clip] probably from His Musical Sneeze (1919), April Fool (1920) [9.5mm fragment], His Darker Self (1924), Jonah Jones (1924), Crushed (1924), Hooked (1925) [16mm fragment], Careful, Please (1926), Nobody's Business (1926), Nothing Matters (1926) [reel one only], Move Along (1926), Casper's Weekend (1928), Don't Be Nervous (1929), Toot Sweet (1929), Good Morning Sheriff (1930), and Hollywood on Parade (1932).
Among the supporting players are Bud Duncan, Stanley Blystone, Eddie Boland, Louise Carver, Glen Cavender, Kit Guard, Thelma Hill, Babe London, Blanche Payson and Dick Sutherland.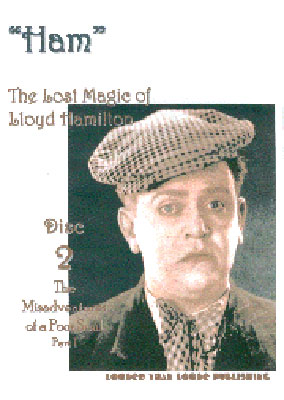 Looser Than Loose Publishing
2006 DVD edition

Ham: The Lost Magic of Lloyd Hamilton (1915-1932), black & white, 350 minutes total, not rated,
including "Ham" and the Sausage Factory (1915), black & white, ? minutes, not rated, "Ham" in a Harem (1915), black & white, ? minutes, not rated, The Phoney Cannibal (1915), black & white, ? minutes, not rated, Raskey's Road Show (1915), black & white, ? minutes, not rated, The Spook Raisers (1915), black & white, ? minutes, not rated, The Great Detective (1916), black & white, ? minutes, not rated, Good Evening Judge (1916), The Love Magnet (1916), [unidentified Ham and Bud] possibly Rival Fakers (1916), black & white, ? minutes, not rated, The Model Janitor (1917), black & white, ? minutes, not rated, A Flyer in Flapjacks (1917), black & white, ? minutes, not rated, The Deadly Doughnut (1917), black & white, ? minutes, not rated, The Bathtub Bandit (1917), black & white, ? minutes, not rated, [unidentified Fox Sunshine clip] probably from His Musical Sneeze (1919), black & white, ? minutes, not rated, April Fool (1920) [9.5mm fragment], black & white, ? minutes, not rated, His Darker Self (1924), black & white, ? minutes, not rated, Jonah Jones (1924), black & white, ? minutes, not rated, Crushed (1924), black & white, ? minutes, not rated, Hooked (1925) [16mm fragment], black & white, ? minutes, not rated, Careful, Please (1926), black & white, ? minutes, not rated, Nobody's Business (1926), black & white, ? minutes, not rated, Nothing Matters (1926) [reel one only], black & white, ? minutes, not rated, Move Along (1926), black & white, ? minutes, not rated, Casper's Weekend (1928), black & white, ? minutes, not rated, Don't Be Nervous (1929), black & white, ? minutes, not rated, Toot Sweet (1929), black & white, ? minutes, not rated, Good Morning Sheriff (1930), black & white, ? minutes, not rated, and Hollywood on Parade (1932), black & white, ? minutes, not rated.

Looser Than Loose Publishing, no catalog number, no UPC number.
Five single-sided, single-layered, Region 0 NTSC DVD-R disc, 1.33:1 aspect ratio image in full-frame 4:3 (720 x 480 pixels) interlaced scan MPEG-2 format, ? Mbps average video bit rate, ? kbps audio bit rate, PCM 2.0 stereo sound, English language intertitles, no foreign language subtitles, chapter stops; five standard DVD keepcases, $65.00 (available individually at $19.95 per disc).
Release date: August 2006.
Country of origin: USA