Reviews of silent film releases on home video.
Copyright © 1999-2018 by Carl Bennett
and the Silent Era Company.
All Rights Reserved.
Fairy Tales
Early Colour Stencil Films
from Pathé
(1901-1922)
Contents: Barbe-bleu (1901), Un Drame au fond de la mer (1901), Les Sept châteaux du diable (1901), Ballet des Sylphides (1902), Ali Baba et les quarante voleurs (1902), Valse excentrique (1903), Japonaiseries (1904), La Danse du diable (1904), Métamorphose du papillon (1905), La Poule aux oeufs d'or (1905), Martyrs chrétiens (1905), Loïe Fuller (1905), L'Album merveilleux (1905), L'Antre de la sorcière (1906), La Peine du talion (1906), Le Fée printemps (1906), Les Roses magiques (1906), Le Scarabée d'or (1907), Cendrillon ou la pantoufle merveilleuse (1907), Le Spectre rouge (1907), Le Pied de mouton (1907), La Sorcière noire (1907), La Belle au bois dormant (1908), L'Oiseau bleu (1908), Le Légende du fantôme (1908), Le Faune (1908), Au Pays de Por (1908) and Little Red Riding Hood (1922).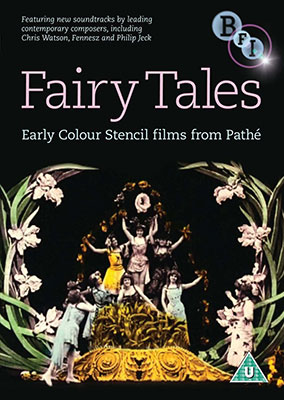 British Film Institute
2012 DVD edition

Fairy Tales: Early Colour Stencil Films from Pathé (1901-1922),
color-tinted black & white and black & white, 156 minutes total, BBFC Classification U,
including Barbe-bleu (1901), color-tinted black & white, 11 minutes, BBFC Classification U, Un Drame au fond de la mer (1901), color-tinted black & white, 1 minute, BBFC Classification U, Les Sept châteaux du diable (1901), color-tinted black & white, 11 minutes, BBFC Classification U, Ballet des Sylphides (1902), color-tinted black & white, 1 minute, BBFC Classification U, Ali Baba et les quarante voleurs (1902), color-tinted black & white, 9 minutes, BBFC Classification U, Valse excentrique (1903), color-tinted black & white, 2 minutes, BBFC Classification U, Japonaiseries (1904), color-tinted black & white, 3 minutes, BBFC Classification U, La Danse du diable (1904), color-tinted black & white, 3 minutes, BBFC Classification U, Métamorphose du papillon (1905), color-tinted black & white, 2 minutes, BBFC Classification U, La Poule aux oeufs d'or (1905), color-tinted black & white, 14 minutes, BBFC Classification U, Martyrs chrétiens (1905), color-tinted black & white, 7 minutes, BBFC Classification U, Loïe Fuller (1905), color-tinted black & white, 2 minutes, BBFC Classification U, L'Album merveilleux (1905), color-tinted black & white, 5 minutes, BBFC Classification U, L'Antre de la sorcière (1906), color-tinted black & white, 7 minutes, BBFC Classification U, La Peine du talion (1906), color-tinted black & white, 6 minutes, BBFC Classification U, Le Fée printemps (1906), color-tinted black & white, 5 minutes, BBFC Classification U, Les Roses magiques (1906), color-tinted black & white, 4 minutes, BBFC Classification U, Le Scarabée d'or (1907), color-tinted black & white, 3 minutes, BBFC Classification U, Cendrillon ou la pantoufle merveilleuse (1907), color-tinted black & white, 16 minutes, BBFC Classification U, Le Spectre rouge (1907), color-tinted black & white, 9 minutes, BBFC Classification U, Le Pied de mouton (1907), color-tinted black & white, 5 minutes, BBFC Classification U, La Sorcière noire (1907), color-tinted black & white, 4 minutes, BBFC Classification U, La Belle au bois dormant (1908), color-tinted black & white, 14 minutes, BBFC Classification U, L'Oiseau bleu (1908), color-tinted black & white, 12 minutes, BBFC Classification U, Le Légende du fantôme (1908), color-tinted black & white, 9 minutes, BBFC Classification U, Le Faune (1908), color-tinted black & white, 5 minutes, BBFC Classification U, Au Pays de Por (1908), color-tinted black & white, 8 minutes, BBFC Classification U, and Little Red Riding Hood (1922), color-tinted black & white, 8 minutes, BBFC Classification U.

BFI Video Publishing, BFIVD529, UPC 5-035673-00529-3.
One single-sided, dual-layered, Region 2 PAL DVD disc, 1.33:1 aspect ratio image in full-frame 4:3 (? x ? pixels) interlaced scan MPEG-2 format, ? Mbps average video bit rate, 320 kbps audio bit rate, Dolby Digital 2.0 stereo sound, English language intertitles, no foreign language subtitles, chapter stops; standard DVD keepcase, £19.99.
Release date: 3 December 2012.
Country of origin: England