Reviews of silent film releases on home video.
Copyright © 1999-2017 by Carl Bennett
and the Silent Era Company.
All Rights Reserved.
Early
Russian Cinema
Volume 3
(1908-1917)
Contents: The Dragonfly and the Ant [Strekova i muravei] (1913), Christmas Eve [Noch'pered rozhdestvom] (1913) and The Lily of Belgium [Liliia Bel'gii] (1915).
This volume focuses on the animation and live-action films of Wladislaw Starewicz.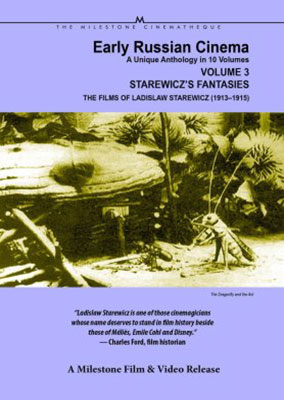 The Milestone Cinematheque
2008 DVD edition

Early Russian Cinema, Volume 3 (1908-1917), black & white, 61 minutes total, not rated,
including The Dragonfly and the Ant [Strekova i muravei] (1913), black & white, 6 minutes, not rated, Christmas Eve [Noch'pered rozhdestvom] (1913), black & white, 41 minutes, not rated, and The Lily of Belgium [Liliia Bel'gii] (1915), black & white, 14 minutes, not rated.

Milestone Film & Video, Mile012D, UPC 7-84148-00124-1.
Full-frame 4:3 NTSC, single-sided, single-layered DVD-R disc, Region 0, ? Mbps average video bit rate, ? kbps audio bit rate, Dolby Digital 2.0 stereo sound, Russian language intertitles, permanent English language subtitles, chapter stops, slimline DVD keepcase, $24.95.
Release date: 2008
Country of origin: USA