Reviews of silent film releases on home video.
Copyright © 1999-2018 by Carl Bennett
and the Silent Era Company.
All Rights Reserved.
Dickens
Before Sound
(1901-1924)
Contents: Scrooge; or, Marley's Ghost (1901) with Gabriel Grub (19??), The Cricket on the Hearth (1909), Oliver Twist (1909), The Boy and the Convict (1909), Grandfather Smallweed (1926-1929), Nicholas Nickleby (1912), The Pickwick Papers: The Honourable Event (1913), David Copperfield (1913), Oliver Twist (1922) and Dickens' London (1924).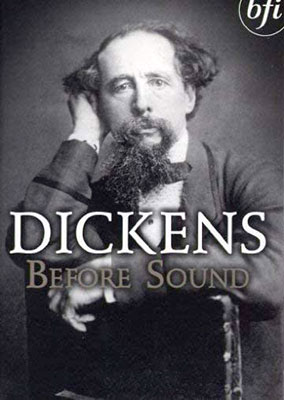 BFI Video Publishing
2006 DVD edition

Dickens Before Sound (1901-1924), black & white and color-toned black & white, 171 minutes total, BBFC Classification E,
including Scrooge; or, Marley's Ghost (1901), black & white, 4 minutes, BBFC Classification E, Gabriel Grub (19??), black & white, 8 minutes, BBFC Classification E, The Cricket on the Hearth (1909), black & white, 14 minutes, BBFC Classification E, Oliver Twist (1909), black & white, 9 minutes, BBFC Classification E, The Boy and the Convict (1909), black & white, 12 minutes, BBFC Classification E, Grandfather Smallweed [extract] (1926-1929), black & white, 4 minutes, BBFC Classification E, Nicholas Nickleby (1912), black & white, 20 minutes, BBFC Classification E, The Pickwick Papers: The Honourable Event (1913), black & white, 15 minutes, BBFC Classification E, David Copperfield (1913) [extract], black & white, 8 minutes, BBFC Classification E, Oliver Twist (1922), color-toned black & white, 74 minutes, BBFC Classification E, and Dickens' London (1924), black & white, 12 minutes, BBFC Classification E.

BFI Video Publishing, BFIVD526, UPC 5-035673-00526-2,
ISBN 5-03567-300526-2, EAN 5.03567E+12.
Two single-sided, dual-layered, Region 2 PAL DVD discs, 1.33:1 aspect ratio image in full-frame 4:3 (? x ? pixels) interlaced scan MPEG-2 format, ? Mbps average video bit rate, ? kbps audio bit rate, Dolby Digital 2.0 stereo sound, English language intertitles, no foreign language subtitles, closed captioned, chapter stops; two-disc standard DVD keepcase, £24.99.
Release date: 28 August 2006.
Country of origin: England