Reviews of silent film releases on home video.
Copyright © 1999-2018 by Carl Bennett
and the Silent Era Company.
All Rights Reserved.
American Slapstick
(1914-1929)
Contents: Caught in the Rain (1914), Laughing Gas (1914), A Submarine Pirate (1915), Luke's Movie Muddle (1916), Cupid's Rival (1917), The Bond (1918), Pay Your Dues (1919), Golf (1922), The Non-Skid Kid (1922), Sold at Auction (1923), Smithy (1924), Lizzies of the Field (1924), Heavy Love (1926), Uppercuts (1926), Forgotten Sweeties (1927), Beauty and the Bump (1927) and Reckless Rosie (1929).
The bulk of this collection of short comedy films was originally produced for home video in 2004-2006 by Mark Roth for his own company, Reelclassicdvd.com, a small retailer offering DVD-R discs for the collector market. A Submarine Pirate was produced for home video by All Day Entertainment's David Kalat.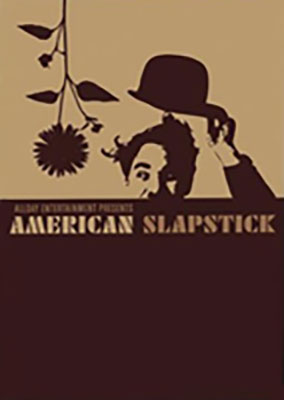 All Day Entertainment
2006 DVD edition

American Slapstick (1914-1929), black & white and color-tinted black & white, 279 minutes total, not rated,
including Caught in the Rain (1914), black & white, 13 minutes, not rated, Laughing Gas (1914), black & white, 11 minutes, not rated, A Submarine Pirate (1915), black & white, 27 minutes, not rated, Luke's Movie Muddle (1916), black & white, 10 minutes, not rated, Cupid's Rival (1917), black & white, 28 minutes, not rated, The Bond (1918), black & white, 9 minutes, not rated, Pay Your Dues (1919), black & white, 13 minutes, not rated, Golf (1922), black & white, 27 minutes, not rated, The Non-Skid Kid (1922), black & white, 11 minutes, not rated, Sold at Auction (1923), black & white, 21 minutes, not rated, Smithy (1924), black & white, 14 minutes, not rated, Lizzies of the Field (1924), black & white, 14 minutes, not rated, Heavy Love (1926), black & white, 20 minutes, not rated, Uppercuts (1926), black & white, 11 minutes, not rated Forgotten Sweeties (1927), black & white, 21 minutes, not rated, Beauty and the Bump (1927), black & white, 16 minutes, not rated, and Reckless Rosie (1929), black & white, 11 minutes, not rated.

All Day Entertainment, distributed by Image Entertainment,
ADE3581DVD, UPC 0-14381-35812-4.
Three single-sided, single-layered, Region 1 NTSC DVD discs, 1.33:1 aspect ratio image in windowboxed and full-frame 4:3 (720 x 480 pixels) interlaced scan MPEG-2 format, ? Mbps average video bit rate, ? kbps audio bit rate, Dolby Digital 2.0 stereo sound, English language intertitles, no foreign language subtitles, chapter stops; three-disc DVD keepcase, $39.99.
Release date: 21 November 2006.
Country of origin: USA