Reviews of silent film releases on home video.
Copyright © 1999-2018 by Carl Bennett
and the Silent Era Company.
All Rights Reserved.
Anna Christie
(1923)
This film adaptation of the Pulitzer Prize-winning Eugene O'Neill play was directed by John Griffith Wray and stars Blanche Sweet, William Russell, George F. Marion and Eugenie Besserer. Russell's overly animated acting style is a bit detrimental to the overall impact of the film, while Sweet carries much of the load.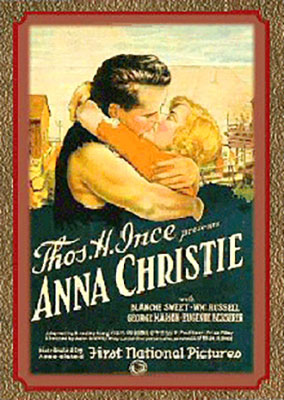 Grapevine Video
2010 DVD edition

Anna Christie (1923), black & white, 96 minutes, not rated.

Grapevine Video, no catalog number, UPC 8-42614-10401-5.
One single-sided, single-layered, Region 0 NTSC DVD-R disc, 1.33:1 aspect ratio image in full-frame 4:3 (720 x 480 pixels) interlaced scan MPEG-2 format, ? Mbps average video bit rate, ? kbps audio bit rate, Dolby Digital 2.0 mono sound, English language intertitles, no foreign language subtitles, 10 chapter stops; standard DVD keepcase, $14.95 (raised to $16.95).
Release date: August 2010.
Country of origin: USA

Ratings (1-10): video: 4 / audio: 5 / additional content: 0 / overall: 5.