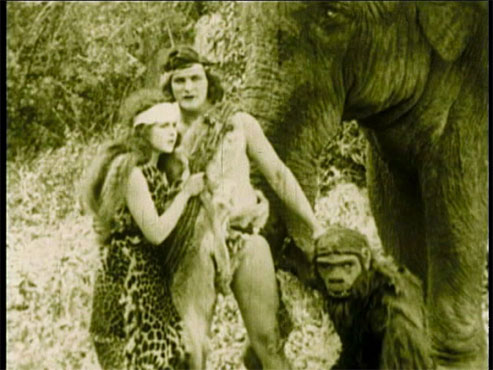 Our first look at this well-produced DVD-R edition, which has been mastered from a good surviving 16mm reduction print, features a very-good full-frame video transfer at a natural-speed pace, with new video-based intertitles.
The Squadron producers have edited a 20-minute prologue for the serial from a good 16mm reduction print of the earlier feature film Tarzan of the Apes (1918) for this home video presentation.
The presentation is accompanied by a stereo music score of African instruments and flute by Roderick Jackson, with well-synchronized sound effects.
The disc also features scenes deleted from the 1928 10-episode rerelease of the serial, and a photo gallery (24 images, with details) which runs under a radio interview with Tarzan author Edgar Rice Burroughs (5 minutes).
Despite its DVD-R manufacture, these discs have been produced at a professional, commercial-grade level. Silent film enthusiasts will make this a welcome addition to their collections.
| | |
| --- | --- |
| This Region 0 NTSC DVD-R edition is available directly from . . . | |