People active in the silent era and people who keep the silent era alive.
Copyright © 1999-2018 by Carl Bennett and the Silent Era Company.
All Rights Reserved.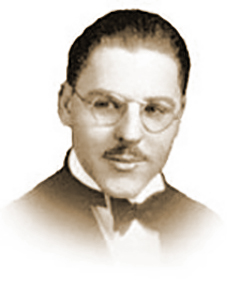 Photograph: Silent Era image collection.
Gaylord Carter


Born 3 August 1905 in Wiesbaden, Germany.
Died 20 November 2000 in San Pedro, California, USA.
Although Gaylord Carter was born in Germany, his family soon immigrated to Wichita, Kansas, where his father opened a music conservatory and received a position as a church organist. Gaylord was a precocious musician, playing at age ten at the Congregational Church in Wichita. At 14, Gaylord began playing organ for children's matinees at a Wichita theater.
The Carter family moved to Los Angeles in 1922 and Gaylord completed high school at Lincoln High School there. He soon took a job as an piano accompanist in a local film theater, beginning a life-long professional career. While working at the Seville Theatre in Inglewood, California, Gaylord was noticed by Harold Lloyd who was in attendance to gauge audience reactions to one of his films. Lloyd, impressed with the young Carter, personally recommended Gaylord for his first important appointment as a theatre accompanist. Gaylord was hired in 1926, at age 21, as theatre organist at Sid Grauman's Million-Dollar Theatre in Los Angeles. Carter played at several of the top movie palaces in Los Angeles during the end of the silent era. He also played at the Paramount Theatre in Seattle.
Gaylord Carter continued working as a theatre organist into the 1930s but with the diminishing responsibilities an musician had to accept with the arrival of sound films, he began to investigate other possibilities. He dovetailed his performances at theaters with increasing work on radio, eventually playing seven years on The Amos 'n' Andy Show. Gaylord continued in radio work, playing for such shows as The Whistler and Suspense, until his transition to another new medium, television. In the 1960s Gaylord Carter helped facilitate the rising interest in silent era films by marketing himself as an accompanist under the business name Flicker Fingers Productions.
Carter continued to be in demand for live performances of silent films and was hired by The Mary Pickford Company in the 1970s to record organ scores for theatrical rereleases of several of Mary Pickford's best films. He recorded several scores for Blackhawk Films as well. Carter was inducted into the American Theatre Organ Society's Hall of Fame in 1975. Into the 1980s Gaylord Carter recorded many more organ scores for films released on home video, performances that can still be enjoyed today.
In 1995, Gaylord Carter's 90th birthday was celebrated with a gala event at the Paramount Theatre in Oakland, California. His autobiography, The Million Dollar Life of Gaylord Carter, was published in a revised edition in 1995. Gaylord Carter passed away in late 2000 after 95 years of a full and wonderful life. He is buried at Forest Lawn Cemetary in Glendale, California, near his parents and several other silent era film stars.