People active in the silent era and people who keep the silent era alive.
Copyright © 1999-2018 by Carl Bennett and the Silent Era Company.
All Rights Reserved.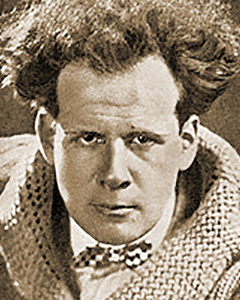 Photograph: Silent Era image collection.
Sergei M. Eisenstein
Born 23 January 1898 in Riga, Russian Empire (now Latvia), as Sergei Mikhailovich Eisenstein.
Died 11 February 1948 in Moscow, Russia, USSR.
Sergei M. Eisenstein established himself as a world-class filmmaker with his first feature film Stachka [Strike] (1924), and went on to establish himself as a cinematic genius with his next, Bronenosets 'Potyomkin' [The Battleship Potemkin] (1925).
References: Website-IMDb.