People active in the silent era and people who keep the silent era alive.
Copyright © 1999-2018 by Carl Bennett and the Silent Era Company.
All Rights Reserved.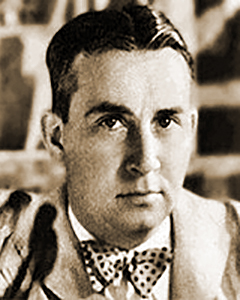 Photograph: Silent Era image collection.
William Cameron Menzies
Born 29 July 1896 in New Haven, Connecticut, USA.
Died 5 March 1957 in Los Angeles, California, USA, of cancer.
Son of Charles A. Menzies and Helen Menzies.
Married Mignon Toby Menzies; daughter, Jean Mignon Menzies, born 1921; daughter, Suzanne Menzies, born 1927;
until William's death, 5 March 1957.
William Cameron Menzies was raised in Connecticut and attended Yale School of the Fine Arts, the Art Students League in New York, and the University of Edinburgh. He served in World War I.
His initial motion picture work was as assistant to Anton Grot for Famous Players-Lasky at their Astoria studio on Long Island, New York, in 1918. With his work gaining recognition within the industry, he began working as Art Director for First National Pictures, Incorporated, and United Artists Corporation in Hollywood in 1921, initially for director Raoul Walsh. Menzies designed productions for many of the independent producers who distributed through First National and United Artists. Among his most-famous work in the 1920s is Rosita (1923), The Thief of Bagdad (1924), What Price Beauty? (1925), Cobra (1925), Graustark (1925), Camille (1926), The Beloved Rogue (1927), The Dove (1927), Quality Street (1927), Sadie Thompson (1928), Tempest (1928) and The Taming of the Shrew (1929).
Menzies won the first Academy Award in 1928 for Art Direction for his work on The Dove and Tempest. He also won an Honorary Academy Award for his work on Gone With the Wind (1939). Menzies is reputed to have coined the term Production Designer (still in use in film credits today) to describe his overarching work in art direction and set design. Beginning in the 1930s, Menzies branched into film direction with his work on Things to Come (1936), sequences in Gone With the Wind (1939), and Invaders From Mars (1953) being his most notable.
In 2005, Menzies was among the first production designers inducted into the Art Directors Guild Hall of Fame.
References: Website-IMDb; Website-Wikipedia.