People active in the silent era and people who keep the silent era alive.
Copyright © 1999-2018 by Carl Bennett and the Silent Era Company.
All Rights Reserved.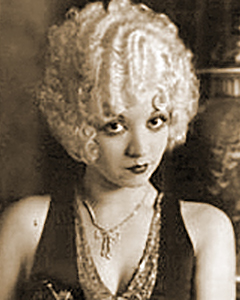 Photograph: Silent Era image collection.
Alice White
Born 25 August 1904 in Paterson, New Jersey, USA, as Alva Violet White.
Died 19 February 1983 in Los Angeles, California, USA.
Married William Hinshaw; divorced.
Married producer Sidney 'Sy' Bartlett, 1933; divorced, 1937.
Married writer Jack Roberts, 1941; divorced, 1949.
Alice White had worked for Charles Chaplin as a script girl when he suggested she try acting and she appeared in her first film in 1927. She made several films for First National Pictures, Incorporated, rising to leading actress quickly.
References: Website-IMDb.