People active in the silent era and people who keep the silent era alive.
Copyright © 1999-2018 by Carl Bennett and the Silent Era Company.
All Rights Reserved.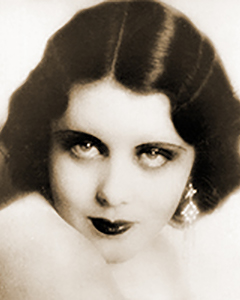 Photograph: Silent Era image collection.
Fay Webb
Born 21 October 1907 in Santa Monica, California, USA, as Fay N. Webb.
Died 18 November 1936 in Santa Monica, California, USA, of peritonitis contracted after abdominal surgery.
Married singer and actor Rudy Vallee on 6 July 1931; separated 4 April 1933.
Fay Webb worked for Metro-Goldwyn-Mayer Pictures Corporation in the late 1920s. She met bandleader Rudy Vallee while he was making The Vagabond Lover (1929). They were married in 1931, but separated less than two years later.
References: Website-IMDb.