People active in the silent era and people who keep the silent era alive.
Copyright © 1999-2018 by Carl Bennett and the Silent Era Company.
All Rights Reserved.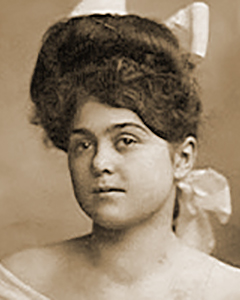 Photograph: courtesy Dorothy Fitzpatrick.
Ethel Terry
Born 1898 as Ethel Ellen Terry.
Half-sister of actress Lucille May Younge.
Ethel Terry began her entertainment career as a dancer and musical comedy actress in Michigan with half-sister Lucille May Younge. Her first motion picture work appears to have been as an extra in Intolerance (1916). By 1918, she was a lead actress in Shorty Hamilton comedies for W.H. Clifford Photoplay Company of California.
Ethel Terry is not the same actress as the British actress Ellen Terry nor the American actress Ethel Grey Terry.
References: Motion Picture Studio Directory and Trade Annual 1921 pp. 241-242 : with additional information provided by Dorothy Fitzpatrick.