People active in the silent era and people who keep the silent era alive.
Copyright © 1999-2018 by Carl Bennett and the Silent Era Company.
All Rights Reserved.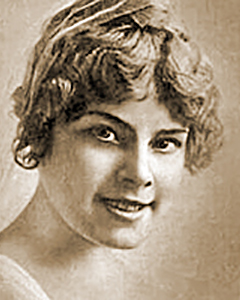 Photograph: Silent Era image collection.
Cleo Ridgely
Born 12 May 1893 in New York, New York, USA, as Freda Cleo Helwig.
Died 18 August 1962 in Glendale, California, USA, of a coronary occlusion.
Married Richard Ridgely in 1910; divorced, 1916.
Married director James W. Horne, in 1916; son, James Horne Jr., born 28 March 1917; daughter, June Horne, born 28 March 1917; until James' death, 29 June 1942.
Cleo Ridgely was a horse enthusiast and in 1910 she rode cross-country on horseback with her newly-married husband, Richard, for publicity purposes. Soon after arriving in California in 1911, Cleo may have been offered roles in motion pictures as a direct result of the national publicity garnered on the horseriding trip. Her earliest films were for Lubin Manufacturing Company (1911), Rex Motion Picture Company (1911-1912) and Kalem Company (1914-1915) where Cleo met director James W. Horne, who would become her second husband.
In the Fall of 1915, Cleo began working for Jesse L. Lasky Feature Play Company, Incorporated, where she would be teamed with leading man Wallace Reid in a number of films directed by Frank Reicher, George Melford and Cecil B. DeMille through the end of 1916. Cleo appears to have temporarily retired from films from the latter stages of her pregnancy and to care for her newborn twins.
Cleo appears to have been coaxed back to motion picture work in 1922 for a series of one-off feature films for Famous Players-Lasky Corporation, Realart Pictures Corporation, Metro Pictures Corporation, Warner Brothers Pictures, Incorporated, and Louis J. Gasnier Productions, Incorporated. After the 1922 run of films, Cleo appears to have again retired until she made a few minor appearances as a supporting player in the the late 1930s and the 1940s.
References: Website-IMDb.