People active in the silent era and people who keep the silent era alive.
Copyright © 1999-2018 by Carl Bennett and the Silent Era Company.
All Rights Reserved.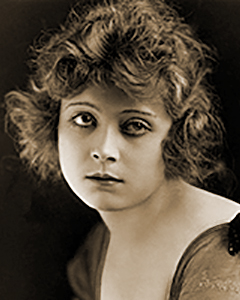 Photograph by Albert Walter Witzel;
Silent Era image collection.
Jane Novak
Born 12 January 1896 in St. Louis, Missouri, USA, as Johana B. Novak.
Died 3 February 1990 in Woodland Hills Hospital, Los Angeles, California, USA, of a stroke.
Sister of actress Eva Novak.
Niece of actress Anne Schaefer.
Married actor Frank Newburg in 1915; daughter, Virginia Rita Newburg; divorced 1918.
Jane Novak left home as a young teenager to work in vaudeville. She began her film career in 1913 through connections with her aunt, actress Anne Schaefer. She became the leading lady of William S. Hart, and they were engaged but the marriage took place.
In 1925, Novak traveled to England to star in films. While there, she and Alfred Hitchcock struck up a friendship that would last a lifetime.
Novak continued to work in films until 1954
References: Website-IMDb; Website-Wikipedia.