People active in the silent era and people who keep the silent era alive.
Copyright © 1999-2018 by Carl Bennett and the Silent Era Company.
All Rights Reserved.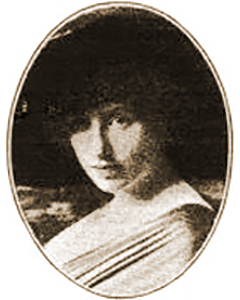 Photograph: Silent Era image collection.
Polly Moran
Born 28 June 1883 in Chicago, Illinois, USA, as Pauline Theresa Moran.
Died 25 January 1952 in Los Angeles, California, USA.
Polly Moran began her motion picture career for Powers Picture Plays in 1913, but is best known for her work at Keystone Film Company, where she began appearing in short comedies in 1915.
Polly starred in a series of short comedies in her Sheriff Nell character for Mack Sennett Comedies and for Fox Film Corporation.
After the silent era, Polly continued acting in sound films throughout her life.
References: Website-IMDb.