People active in the silent era and people who keep the silent era alive.
Copyright © 1999-2018 by Carl Bennett and the Silent Era Company.
All Rights Reserved.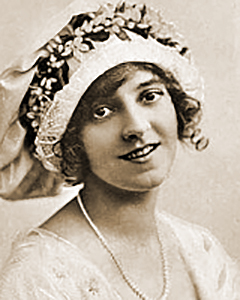 Photograph: Silent Era image collection.
Elsie Janis
Born 16 March 1889 in Columbus, Ohio, USA.
Died 26 February 1956 in Los Angeles, California, USA.
Elsie Janis began a stage career at age seven in Columbus, Ohio. Far more popular on-stage than in motion pictures, Elsie was a precocious song-and-dance performer, noted for her comedic sensibilities and knack for celebrity impressions. Not only acting in a handful of silent era films, Elsie also wrote for motion pictures into the earliest days of sound films. Janis was also a distinguished songwriter, whose work has been included in modern Hollywood films.
References: Whitfield-Pickford p. 27 : Website-IMDb.