People active in the silent era and people who keep the silent era alive.
Copyright © 1999-2018 by Carl Bennett and the Silent Era Company.
All Rights Reserved.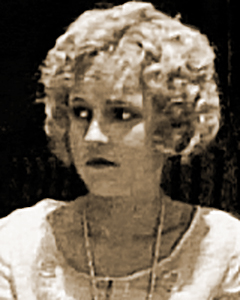 Ena Gregory in Wedding Bells (1924).
Frame enlargement: Silent Era image collection.
Ena Gregory
(same as Marian Douglas and/or Marion Douglas)
Born 18 April 1906 in Sydney, New South Wales, Australia.
Died 13 June 1993 in Laguna Beach, California, USA.
Married director Albert S. Rogell; divorced.
Married Dr. Frank G. Nolan, 5 November 1937; [?] divorced?, 1939.
Ena Gregory worked for The Universal Film Manufacutring Company Incorporated (1921), Ben Wilson Productions (1923), Hal Roach Studios, Incorporated (1923-1924), Fox Film Corporation (1924), and Monte Banks Productions, Incorporated (1924). She was a Wampas Baby Star in 1925. She worked for First National Pictures, Incorporated (1925), Universal Pictures Corporation (1925-1927), and Film Booking Offices of America, Incorporated (1928), appearing in westerns as Marian Douglas and/or Marion Douglas.
References: Website-IMDb.