People active in the silent era and people who keep the silent era alive.
Copyright © 1999-2018 by Carl Bennett and the Silent Era Company.
All Rights Reserved.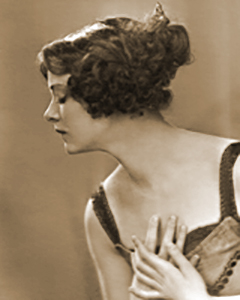 Photograph: courtesy David Pires.
Neyneen Farrell
Born 17 July 1898 in Rotterdam, the Netherlands.
Died [?] 8 March 1989 or 1994? in Los Angeles County, California.
Married musician Wade Hamilton, [?] 1919 or 1920?; daughter, Gloria Hamilton, born 1923; divorced [?] 1934 or 1935?
Married Harry Pires, [?] 1947 or 1948?
Neyneen Farrell was born in Rotterdam in 1898, while her mother and father were on a Mormon mission there. Her great-great-grandfather was Brigham Young. Neyneen was raised in Logan, Utah. Her father Alfred Lundberg Farrell was a music teacher, and Neyneen became his accompanist at the age of 12.
Motion picture director Victor Schertzinger saw Neyneen sing at the age of 16 and signed her to a movie contract. Neyneen moved to California in the mid-1920s. She appears to have acted in just three films: in the silent film Dollar Devils (1923) in the rôle of "Helen Andrews," in the early sound film Frozen Justice (1929) as "Yukon Lucy," and her rôle was edited out of the Marx Brothers' A Night at the Opera (1935).
Neyneen married well-known organist Wade Hamilton in 1919 or 1920, and gave birth to Gloria Hamilton in 1923, who had a prolific career on Broadway. Neyneen and Wade divorced in 1934 or 1935. She married Harry Pires in 1947 or 1948.
Neyneen became a voice teacher and pianist for Harold Hurlbut, and continued as such until she opened her own studio in 1937. Neyneen was the 1964-1965 president of the National Association of Teachers of Singing, Los Angeles Branch. She continued teaching until she was 83 years old.
Neyneen Farrell Pires died in 1994, at the age of 95.
References: Website-IMDb : with additional information provided by David Pires.