People active in the silent era and people who keep the silent era alive.
Copyright © 1999-2018 by Carl Bennett and the Silent Era Company.
All Rights Reserved.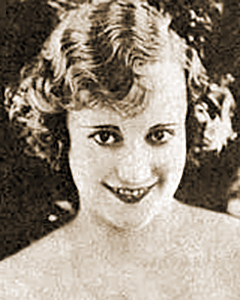 Photograph: Silent Era image collection.
Ruth Dwyer
Born 25 January 1898 in Brooklyn, New York, USA.
Died 2 March 1978 in Woodland Hills, Los Angeles, California, USA.
Married William Jackie.
Married Robert John McMurray, circa 1924-1925; divorced 1927.
Ruth Dwyer worked for Wistaria Productions in 1919, Hallmark Pictures Corporation in 1920, Universal Pictures Corporation in 1923 and 1924, Sunset Productions in 1924, Buster Keaton Productions, Incorporated, Independent Pictures and R-C Pictures Corporation in 1925, B&H Enterprises and Johnny Hines Productions (C.C. Burr Pictures) in 1926, Harry J. Brown Productions and Universal Pictures Corporation in 1927, and Henry Hobart Productions in 1928.
References: Website-IMDb : with additional information provided by Martel March.