People active in the silent era and people who keep the silent era alive.
Copyright © 1999-2018 by Carl Bennett and the Silent Era Company.
All Rights Reserved.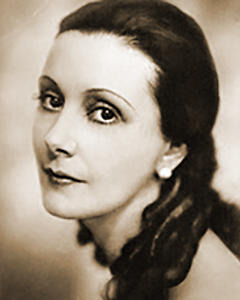 Photograph: Silent Era image collection.
Lil Dagover
Born 30 September 1887 in Madiun, Java, Dutch West Indies (Indonesia) as Marie Antonia Siegelinde Martha Liletts.
Died 24 January 1980 in Munich, West Germany.
Married actor Fritz Daghofer, 1917; daughter Eva Maria Daghofer, born 1919; divorced 1919.
Married film producer George Witt, 1926; until George's death, 17 April 1972.
Lil Dagover began her motion picture career appearing in a short film in 1913. She is known for appearances in high-profile German silent era films, such as Die Spinnen (1919), Harakiri (1919), Das Cabinet des Dr. Caligari (1920), Der müde Tod (1921), Dr. Mabuse, der Spieler (1922), Phantom (1922), Tartüff (1925) and Ungarische Rhapsodie (1928).
The beautiful Dagover made the transition into sound films and continued her work in films and television into the late 1970s.
References: Website-IMDb; Website-Wikipedia.