People active in the silent era and people who keep the silent era alive.
Copyright © 1999-2018 by Carl Bennett and the Silent Era Company.
All Rights Reserved.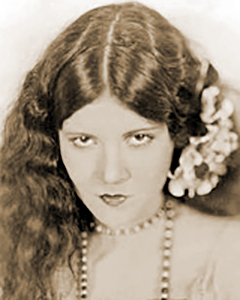 Photograph: Silent Era image collection.
Olive Borden
Born 14 July 1906 in Richmond, Virginia, USA, as Sybil Tinkle.
Died 1 October 1947 in Los Angeles, California, USA, of a stomach ailment.
Cousin of actress Natalie Joyce.
Married John Moeller.
Married Theodore Spector.
Olive Borden began in films as a Sennett Bathing Beauty in 1922. Her beauty and talent caused a rapid advancement in her career, and she was named one of the WAMPAS Baby Stars of 1925.
References: Website-IMDb.