People active in the silent era and people who keep the silent era alive.
Copyright © 1999-2018 by Carl Bennett and the Silent Era Company.
All Rights Reserved.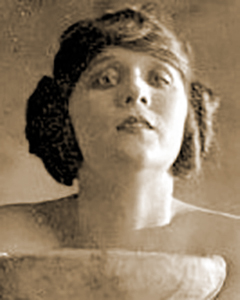 Photograph: Silent Era image collection.
Olive Ann Alcorn
(same as Olive Acorn)
Born 10 March 1900 in Stillwater, Minnesota, USA.
Died 8 January 1975 in Los Angeles, California, USA.
Married Louis H. Scherer; divorced 1925.
Married Harry Singer, 22 May 1928.
Olive Ann Alcorn had a brief motion picture career as an actress, appearing in only five known films between 1919 and 1925. While she appeared in two major motion pictures, Sunnyside (1919) and The Phantom of the Opera (1925) and was the young romantic ingénue in The Long Arm of Mannister (1919), it appears that her career may have been focused on dance instead of film acting.
References: Website-IMDb.