People active in the silent era and people who keep the silent era alive.
Copyright © 1999-2018 by Carl Bennett and the Silent Era Company.
All Rights Reserved.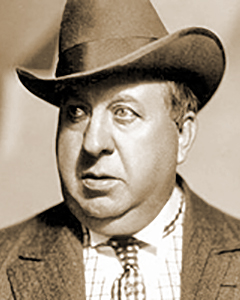 Photograph: Silent Era image collection.
Mack Swain
Born 16 February 1876 in Salt Lake City, Utah, USA, as Moroni Swain.
Died 25 August 1935 in Tacoma, Washington, USA.
Married Cora Claire King; until Mack's death, 25 August 1935.
Mack Swain is remembered for his comedic work in Keystone Film Company short comedies. Swain created his character Ambrose at Keystone and continued the character into short comedies for other production companies.
Swain is best remembered as Big Jim McKay in Charles Chaplin's The Gold Rush (1925).
References: Website-IMDb; Website-Wikipedia.