People active in the silent era and people who keep the silent era alive.
Copyright © 1999-2018 by Carl Bennett and the Silent Era Company.
All Rights Reserved.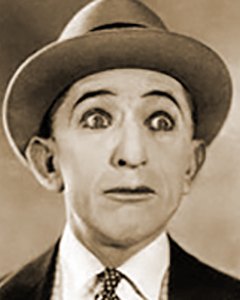 Photograph: Silent Era image collection.
Larry Semon
Born 16 July 1889 in West Point, Mississippi, USA.
Died 8 October 1928 at Gracelon Ranch near Victorville, California, USA, of lobar pneumonia complicated by pulmonary tuberculosis.
Married actress Lucille Carlisle; divorced, 1923.
Married actress Dorothy Dwan, 22 January 1925; until Larry's death, 8 October 1928.
Larry Semon began film work at The Vitagraph Company of America in 1916 as comedy short writer and director. He began acting in 1917. Semon was known as Ridolini in Italy, and as Tomasin in Spain.
References: Website-IMDb.