People active in the silent era and people who keep the silent era alive.
Copyright © 1999-2018 by Carl Bennett and the Silent Era Company.
All Rights Reserved.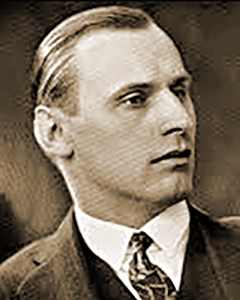 Photograph: Silent Era image collection.
Fritz Rasp
Born 13 May 1891 in Bayreuth, Germany, as Fritz Heinrich Rasp.
Died 30 November 1976 in Gräfelfing, Bavaria, West Germany.
Married Eva ?, 1918; two children; divorced, ?.
Married Charlotte Petermann; two children.
Fritz Rasp began his theatrical training in 1908-1909 at the Theaterschule Otto Königin in Munich. Rasp began his stage career in 1909 as Amandus in Max Halbe's play Skandalstück Jugend at the Münchner Schauspielhaus. Rasp received a five-year stage contract with the Reinhardts Deutschem Theater of Berlin in May 1914.
Rasp began his motion picture career in 1916 but his new acting direction was detoured by his World War I German military service in 1916 through 1918.
Fritz would not reappear in films until 1922, but throughout the remainder of the silent era Rasp made more than 30 films, including appearances for top-rank directors in the massively influential German films Schatten [Warning Shadows] (1923), Metropolis (1927), Die Liebe der Jeanne Ney [The Love of Jeanne Ney] (1927), Spione [Spies] (1928), Das Tagebuch einer Verlorenen [Diary of a Lost Girl] (1928) and Die Frau im Mond [Woman in the Moon] (1929). Rasp excelled and specialized in menacing character roles throughout his silent era career, which continued throughout his life and into the months before his death in 1976.
References: Website-IMDb.