People active in the silent era and people who keep the silent era alive.
Copyright © 1999-2018 by Carl Bennett and the Silent Era Company.
All Rights Reserved.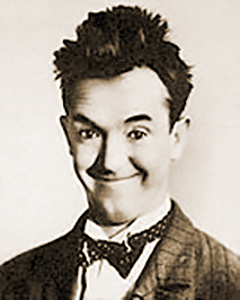 Photograph: Silent Era image collection.
Stan Laurel
Born 16 June 1890 in Ulverston, Cumbria, England, United Kingdom, as Arthur Stanley Jefferson.
Died 23 February 1965 in Santa Monica, California, USA, of a heart attack.
Married Lois Nielson, 1926; two children; divorced, 1935.
Married Virginia Ruth Rogers, 1935; divorced, 1937.
Married Vera Ivanova Shuvalova, 1938; divorced, 1940.
Married Virginia Ruth Rogers, 1941; divorced, 1946.
Married Ida Kitaeva, 1946; until Stan's death, 23 February 1965.
References: Website-IMDb.