People active in the silent era and people who keep the silent era alive.
Copyright © 1999-2018 by Carl Bennett and the Silent Era Company.
All Rights Reserved.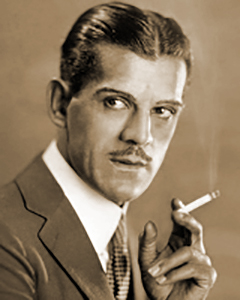 Photograph: Silent Era image collection.
Boris Karloff
Born 23 November 1887 in Camberwell, London, England, United Kingdom, as William Henry Pratt.
Died 2 February 1969 in Midhurst, Sussex, England, United Kingdom, of emphysema.
Married Grace Harding, 23 February 1910; divorced, 8 January 1913.
Married Olive de Wilton, 1915; divorced.
Montana Laurena Williams, 1920; divorced.
Married Helene Vivian Soule, 3 February 1924; divorced, 1928.
Married Dorothy Stine, 12 April 1930; one child; divorced 10 April 1946.
Married Evelyn Hope Helmore, 11 April 1946; until William's death, 2 February 1969.
Boris Karloff began his acting career in a touring company after he had emigrated to Canada from England in 1909. At that time he adopted his stage name, Boris Karloff. He toured Canada and the United States of America for the next decade, and was drawn to Hollywood where Karloff began in films, picking up extras work and small character roles. Throughout the 1920s Karloff eked out a modest motion picture career, mostly at low-budget studios.
As is well-known, Boris Karloff achieved motion picture immortality as the monster in Universal's production of Frankenstein (1931). He continued throughout the 1930s and 1940s in a long string of popular horror and thriller roles, and continued regular work into the 1960s.
References: Website-IMDb.