People active in the silent era and people who keep the silent era alive.
Copyright © 1999-2018 by Carl Bennett and the Silent Era Company.
All Rights Reserved.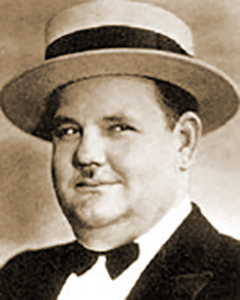 Photograph: Silent Era image collection.
Oliver Hardy
(same as Babe Hardy, Oliver N. Hardy, O.N. Hardy, Cupid Hardy)
Born 18 January 1892 in Harlem, Georgia, USA, as Norvell Hardy.
Died 7 August 1957. in North Hollywood, California, USA, of a cerebral thrombosis.
Married Madelyn Saloshin, 7 November 1913; divorced, 1921.
Married actress Myrtle Reeves, 24 November 1921; divorced, 18 May 1937.
Married script supervisor Virginia Lucille Jones, 7 March 1940; until Oliver's death, 7 August 1957.
References: Website-IMDb.