People active in the silent era and people who keep the silent era alive.
Copyright © 1999-2018 by Carl Bennett and the Silent Era Company.
All Rights Reserved.
Gary Cooper
(same as Frank Cooper)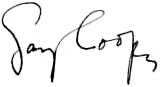 Born 7 May 1901 in Helena, Montana, USA, as Frank James Cooper.
Died 13 May 1961 in Beverly Hills, California, USA, of lung cancer.
Married Sandra Shaw, 15 December 1933; daughter, Maria Cooper; until Gary's death, 13 May 1961.
References: Website-IMDb.