People active in the silent era and people who keep the silent era alive.
Copyright © 1999-2015 by Carl Bennett and the Silent Era Company.
All Rights Reserved.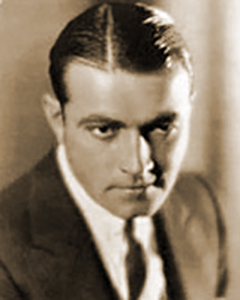 Photograph: Silent Era image collection.
Richard Barthelmess
Born 9 May 1895 in New York, New York, USA, as Richard Semler Barthelmess.
Died 17 August 1963 in Southampton, New York, USA, of throat cancer.
Married actress Mary Hay, 18 June 1920; divorced, 1927.
Married Jessica Stewart Sargent, 1928; until Richard's death, 17 August 1963.
Richard Barthelmess began in films when Alla Nazimova offered him a role in War Brides (1916). His career was boosted when he worked for D.W. Griffith, excelling in his portrayal of a compassionate Chinese man with Broken Blosssoms (1919). In the early 1920s, Barthelmess established his own production company.
References: Website-IMDb.