People active in the silent era and people who keep the silent era alive.
Copyright © 1999-2018 by Carl Bennett and the Silent Era Company.
All Rights Reserved.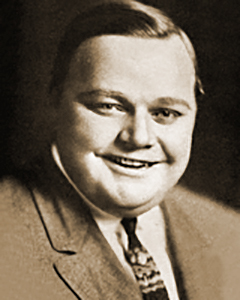 Photograph: Silent Era image collection.
Roscoe Arbuckle


Born 24 March 1887 in Smith Center, Kansas, USA, as Roscoe Conkling Arbuckle.
Died 29 June 1933 in Park Central Hotel, New York, New York, USA, of heart disease.
Married actress Minta Durfee (Arminta Estelle Durfee), 6 August 1908 at the Byde-A-While Theater in Long Beach, California, USA; divorced, 27 January 1925.
Married actress Doris Deane, 16 May 1925, in San Marino, California; divorced, August 1928.
Married actress Addie Oakley Dukes McPhail, 21 June 1931; until Roscoe's death, 29 June 1933.
Roscoe Arbuckle started in vaudeville and musical comedy theater. Arbuckle began his film career for The Selig Polyscope Company, Incorporated (1909), and began working for The Keystone Film Company (April 1913 through July 1916). Some sources say Arbuckle worked for Nestor Film Company before 1913. While at Keystone, Arbuckle appeared in a handful of films with Charles Chaplin during his work there in 1914, notably The Rounders (1914).
Arbuckle began work as an independent producer for Joseph Schenck under the Comique Film Corporation banner on 1 January 1917. During his years at Comique, Arbuckle brought vaudeville star Buster Keaton into his first film work.
His career as a top comedian was cut short by an infamous scandal surrounding the death of actress Virginia Rappé in September 1921. His third trial was scheduled to begin on 13 March 1922.
Directed under the pseudonym William Goodrich in the late 1920s through 1931. Returned to short films as a performer late in 1932 under his own name.
References: Edmonds-Arbuckle; Miller-Comedies pp. 14-19 : Screenland-192204 p. 7.