A collection of news and information pertaining to silent era films.
Copyright © 1999-2018 by Carl Bennett and the Silent Era Company.
All Rights Reserved.
The 2000 Restoration of Napoléon (1927)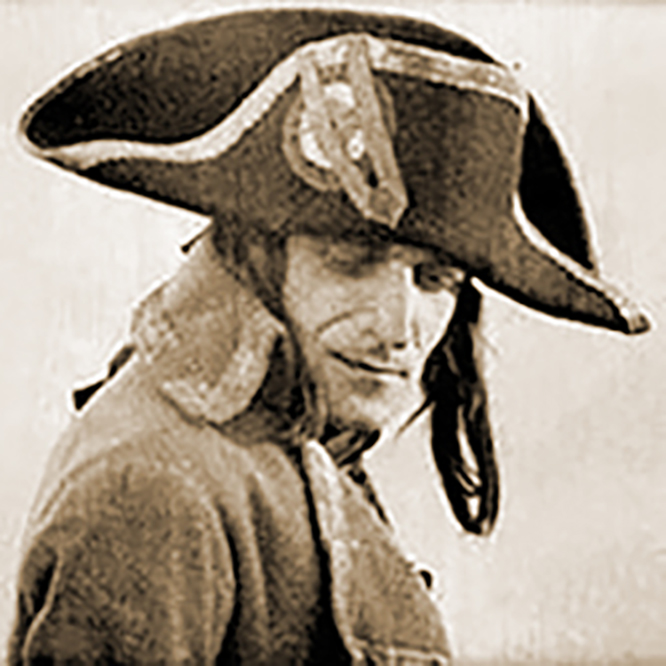 On 3 June 2000, the British Film Institute presented a premiere screening of Kevin Brownlow's third major restoration of Abel Gance's mammoth biographical epic Napoléon (1927). The presentation took place before an audience of 2,200 at the Royal Festival Hall in London, England, and featured an expanded musical score by Carl Davis, based on his original 1980 score. The film was accompanied by a 46-piece orchestra and shown with three intermissions during the presentation. The historic presentation began La Fédération Internationale des Archives du Film's (FIAF) 2000 international meeting of film archivists. The entire presentation, with intermissions, lasted approximately eight hours.

The June 3 presentation stood by Gance's original theatrical intent, shunning modern anamorphic composite-image film prints, by showing the famous triptych finale as three side-by-side images projected by three synchronized 35mm film projectors onto a 69-foot triple-wide screen. Paolo Cherchi Usai, curator of the George Eastman Museum film archive, said, "My heart stopped when the triptych started."

Brownlow expanded the film to its current 5-1/2 hour running time utilizing footage from the Gance epic previously unrestored in English versions that was rediscovered in Corsica by American Bambi Ballard. Ballard discovered the high-quality footage while working on a French-language restoration of Napoléon for La Cinémathèque française. The abbreviated 35mm Corsican print is said to be of excellent quality, and now resides in the archives of La Cinémathèque française in Paris. In addition, Brownlow says nearly all of the FIAF member archives contributed at least a single shot that could be found nowhere else to the new restoration. Altogether, 35 minutes of material has been added to the 1980 restoration and all footage that was optically blown-up from a surviving 17.5mm reduction print has been replaced by 35mm footage of excellent quality. An estimated 50 minutes of footage from the original 1927 release remains lost.

Previous English-language editions of the film compiled by Kevin Brownlow include his 1980 restoration, which included Davis' original music score, and the 1981 American rerelease of the film based on Brownlow's work, produced by Francis Ford Coppola's Zoetrope Studios (which was shorter in length than Brownlow's 1980 version due to Coppola-supervised editing), which featured an original music score by Carmine Coppola. Brownlow also produced another restoration that premiered in 1983.

The 2000 restoration of Napoléon includes the most-complete edition of the film seen by audiences since the late 1920s. It includes improved image quality from the 'superior' Cinémathèque française footage, and all-new authentic process dye bath color tints and toning by Joao Oliveira of the National Film and Television Archive of the British Film Institute, who painstakingly reproduced the original Pathé tint and toning processes in equipment he built himself. More than half of the 2000 restoration has been color tinted and toned, with the balance of the footage presented in black & white. The English-language intertitles were entirely redone for the new edition. English intertitles were corrected and retranslated from the French. The new intertitles were typographically-matched to the original French intertitles, reset by computer in the matching typefont, and then imaged to filmstock. The restoration was made possible largely through the financial support of the Eric Anker-Petersen Charity, a Danish trust.

At present, there are no plans known to present the expanded Napoléon in the United States. Coppola's exclusive contract protecting his 1981 version prevents Brownlow from showing his 1980 version in American theaters or from releasing that edition on home video in the US. We do not know whether Coppola's contract will either limit or totally prevent any presentations of the 2000 restoration in the United States. But we, here and now, begin lobbying for someone to make this restoration available to American audiences (on a roadshow basis?), with the Carl Davis music score accompanying the film and the three-panel triptych finale shown as intended.